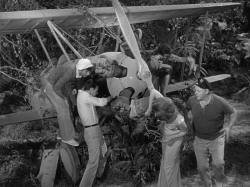 The other night Melanie and I were watching an episode of the old Gilligan's Island television show titled "
Wrongway Feldman
," which was about a long-forgotten, famous aviator who took a wrong turn during a race and ended up being stranded on the same island as seven famous castaways. The "Spirit of the Bronx" airplane featured in the show was referred to by Wrongway as a Krieder Reisner KR21. It is a right nice looking biplane. I immediately hit the pause button and looked it up on Google. The KR-21, according to the
EAA AirVenture Museum's
website, was manufactured in the 1929-1930 timespan, had a 22'-7" wingspan, and a 125 hp
Kinner B5
(R-440), 372 cubic inch, 5-cylinder radial engine. Not very many were made, so it is remarkable that this one turned up in the show.
1930 Kreider-Reisner KR-21B N954V
(EAA AirVenture Museum image)
Here is a page that has the entire transcript for: "
Wrongway Feldman
."
Posted September 28, 2013