Thunder Tiger Victoria
Mainsail Tack and Head Attachment Modification
Mainsail Tack and Head
Attachment Modification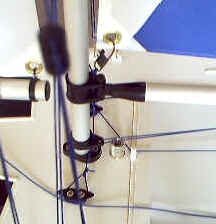 In order to facilitate rapid removal and installation of the mast and boom for transportation, a slight modification to the mainsail tack attachment is made. Rather than tying the rigging string directly to the mainsail tack with "TYPE B" knots, and using "TYPE C" knots at the cleats, a snap is installed at the mainsail tack and head attachment points and "TYPE B" knots are used at the cleats.

This permits the mainsail to be easily removed and the tension adjusted at the cleat. Furthermore, the "TYPE B" knot at the cleat is easily lifted off the cleat if the mast needs to be removed.


Tie a length of rigging string to a snap and attach the snap to the mainsail head attachment point. Attach the other end of the rigging string through the mast top and onto the cleat per the manufacturer's instructions.

Sheet Control Rigging

All of the new rigging for the modified Victoria can be most easily understood by studying the photographs. Notice that the steering wheel assembly has been removed to prevent fouling of lines. Also, the top edges of the two black winches have been trimmed flush with lower body diameter to prevent the sheets from getting caught under them. Good luck!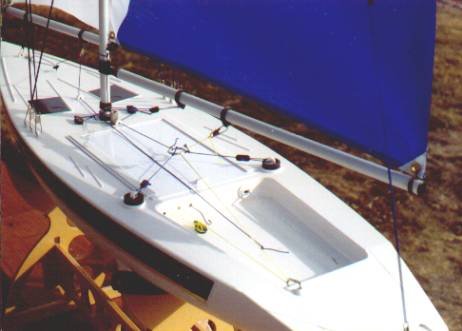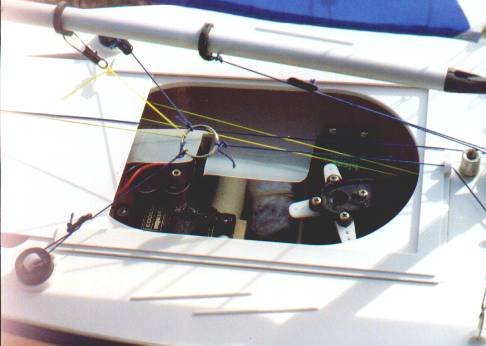 Kirt BlattenbergerCarpe Diem!

(Seize the Day!)

Even during the busiest times of my life I have endeavored to maintain some form of model building activity. This site has been created to help me chronicle my journey through a lifelong involvement in model aviation, which all began in Mayo, MD ...
Webmaster:
Kirt Blattenberger
BSEE - KB3UON
Family Websites:
RF Cafe | Equine Kingdom

All trademarks, copyrights, patents, and other rights of ownership to images and text used on the Airplanes and Rockets website are hereby acknowledged.

Academy of Model
Aeronautics

Tower Hobbies

Horizon Hobby

Sig Mfg

Brodak Mfg