Thunder Tiger Victoria
Snap Modifications
Snap Modifications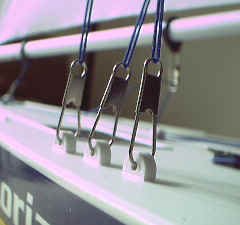 As supplied, the snaps have a shape that tend to wrench the deck eyelets out of the deck when tension is put on the lines. This occurs because the centerline of the snap is not aligned in the direction of the tension. A simple reforming of the snap

wires into a rounded shape will correct the problem. Better yet, a trip to the fishing section of Wal-Mart or a tackle shop will yield a new set of snaps that already have the rounded shape.

The picture at the right shows reformed original snaps. Note that the centerlines are in line with the rigging lines.

The picture at the left shows new snaps from Wal-Mart that already have a rounded shape.





Kirt BlattenbergerCarpe Diem!

(Seize the Day!)

Even during the busiest times of my life I have endeavored to maintain some form of model building activity. This site has been created to help me chronicle my journey through a lifelong involvement in model aviation, which all began in Mayo, MD ...
Webmaster:
Kirt Blattenberger
BSEE - KB3UON
Family Websites:
RF Cafe | Equine Kingdom

All trademarks, copyrights, patents, and other rights of ownership to images and text used on the Airplanes and Rockets website are hereby acknowledged.

Academy of Model
Aeronautics

Tower Hobbies

Horizon Hobby

Sig Mfg

Brodak Mfg