My first R/C helicopter was a DuBro Tri-Star, back sometime around 1976 (the year I graduated from high school). I think it was purchased through Tower Hobbies. Come to think of it, just about every mail order purchase I have ever made has been through Tower Hobbies, but that's another story. The Tri-Star was named so because it could be built with three different ABS plastic body styles: standard non-scale, Hughes 500, or Enstrom. Mine never got past the standard body, which was styled after the Scorpion home-built helicopter. If anyone has one for sale, please let me know; I'd like to reacquire one for the sake of nostalgia.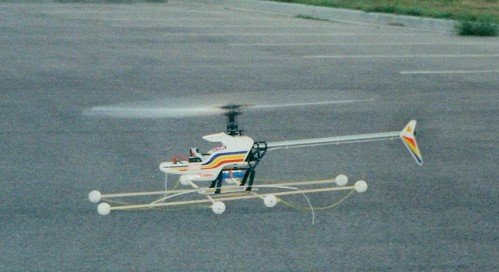 A Super Tigre .46 powered it (barely). The biggest pain was the centrifugal clutch. The clutch material that was on the inside of the bell housing had to be epoxied in place, and the darn thing never lasted for more than two or three flights before it had to be re-epoxied. The tail boom was very thin aluminum and easily creased when the tail would hit the ground. Although I never broke and blades, I spent a lot of time repairing the clutch and tail boom. I built a spider type training gear for it that consisted of five fiberglass arrow shafts and some whiffle golf balls on the ends. At the time, gyros for the tail cost about as much as the helicopter did ($200), so I never had the benefit of one. After learning to hover somewhat successfully, I dared to venture into my first deliberate forward flight. It took about fine hair-raising minutes to finally get it back into a hover where I could land. I remember that I was flying from the parking lot of a hotel that was next to a busy highway. More than once during that flight I was sure I was going to smash into a car (I don't think the drivers were even aware of how close I came to them). After that, flying was done at a school.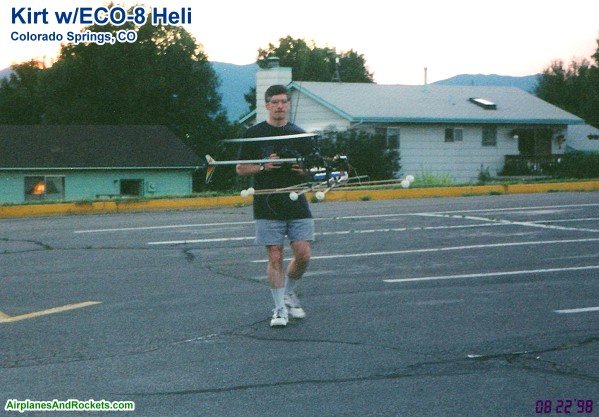 I went into the U.S. Air Force in November of 1978, and brought the Tri-Star to my permanent duty station at Robins AFB, GA, where it hung for three years but never flew. After getting out of the USAF, it was sold to some guy in Annapolis, MD, for about $100 (including the engine).


ECO 8 Electric RC Helicopter

My next venture into RC helicopters came about a decade later when I bought an Ikarus ECO 8 electric chopper from Hobby Lobby (c.1998). It was pretty lam in performance with the stock motor and a very heavy NiCad battery pack. At least there were no clutch problems to deal with. This time I had a heading hold gyro for the tail rotor and I was actually able to somewhat fly the thing. After losing patience with the lameness of the power plant, I sold it on an AOL bulletin board to some guy in Florida. It had not suffered any damage beyond a slight dent in the tail boom where one of the main blades slapped it on a less-than-soft landing.


E-flite Blade CP Electric Helicopter
Please

click here

for the dedicated Blade CP webpage.