Aircraft modeling has undergone significant changes over the decades - both in technology and preferences. Magazines like American Aircraft Modeler, American Modeler, Air Trails, and Flying Aces were the best venues for capturing snapshots of the status quo of the day. Still, many things never change, so much of the old content is relevant to today's modeler. Whether you are here to wax nostalgic, or are interested in learning history, hopefully you will find what you are seeking. As time permits, I will be glad to scan articles for you. All copyrights are hereby acknowledged.
A little at a time, I have been collecting vintage issues of Air Trails (AT), American Modeler (AM), and American Aircraft Modeler (AAM). As of May 2010, I finally procured the last few editions to complete the set of AAM, covering January 1968 through March 1975 (87 issues). Yeah, they're pretty much worthless to people who were not modelers in the era, but it is a nice trip back in time for us older guys.
If you want to wax nostalgic over some of the old advertisements, check out these that I have selected.
This particular page is from page TBD of the TBD magazine.
Nick Ziroli
plans are available on his website. All copyrights (if any) are hereby acknowledged.
Use the U.S. Bureau of Labor Statistics'
inflation calculator
to see what items cost in today's dollars. For instance, that $50 "Bearcat F8F" would be $260 in 2010 money.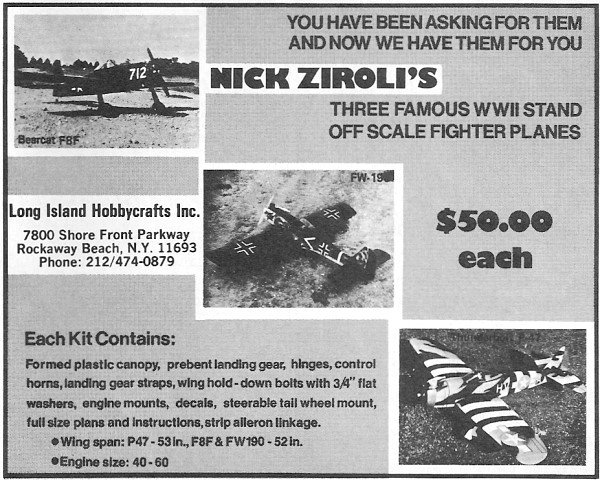 Vintage Model Aircraft Magazine Advertisements:
Ace Radio Control, May 1957 AM
Ace Radio Control, Jan 1970 AAM
America's Hobby Center, Jan 1962 AM
America's Hobby Center, Sep 1970 AAM
Berkeley Models, Dec 1954 AT
Berkeley Models, Jul 1957 AM
Bonner Digimite
Carl Goldberg (1967)
Carl Goldberg (1970)
Citizen Ship Radio Corp.
Cox Thimble Drome .049
deBolt Model Engineering
Du-Bro Products, Nov 1970 AAM
K&B Fokker D.7 Biplane
EK Products, Nov 1970 AAM

Enterprise Model Aircraft
Eureka Importing Co.
Fox Fuels
, Jan 1962
Fox Manufacturing
, Apr 1962
Guillow's, Dec 1969 AAM
Guillow's
, March 1955 AT
Hawk Model Company
Heathkit, Sep, 1970
Herkimer (OK) Tools & Model Works
Hobby People
Jetco
Lafayette Radio
Min-X
Model Rectifier Corporation (MRC)
Nick Ziroli
Pan American World Airways Ad (PAA-Load)
Polks Hobbies
Revell
Royal Products
Scientific Models
Sig Manufacturing
Sterling Models, Dec 1954 AT
Sterling Fokker D-7
, Aug 1968 AAM
Sterling Models
, Sept 1970 AAM
Sterling Models
, Nov 1970 AAM
Tatone Products
Thimble Drome
Top Flite, Dec 1969 AAM
United States Rubber Company
(1957 MA)
United States Rubber Company
(1955 AT)
World Engines
, Mar 1973