I bought a 1969 edition of the Sears, Roebuck & Co.'s Christmas Wish Book on eBay. It was the year I turned 11 years old, and was also the year of the Apollo 11 moon landing. Remembering how I eagerly awaited those pages filled with advertisements for model airplanes, boats, guns, Erector sets, and countless other things, I figured it might be nice to look through one again. Here is the
1967 Montgomery Ward Christmas Catalog
, the
1969 Montgomery Ward Christmas Catalog
and the
1969 Sears Christmas Wish Book
. Enjoy!
On page 511 of the Sears 1969 Christmas Wish Book are a few Erector Sets. This was probably the year (±a few) that I got my first Erector Set. It had quite a lot of parts, including a motor. Although I already had a natural interest, it was gifts like this that helped nurture what would become a life-long pursuit of things mechanical and electrical, eventually leading to my earning an electrical engineering degree.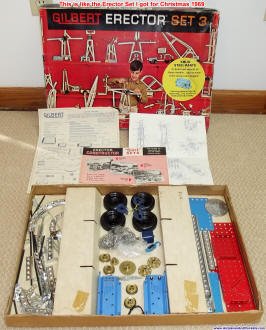 Here is my son, Philip, with a helicopter that I built for him from an Erector Set we gave him for Christmas back around 1990. To the right is Erector Set #3, similar to the one I received for Christmas in 1969, that I bought on eBay.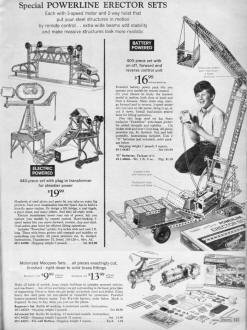 Use the U.S. Bureau of Labor Statistics' inflation calculator to see what items cost in today's dollars. That $16.99 Erector Set would cost $101.25 in 2010 money.
See the Gilbert Erector Set advertisement in the December 1935 issue of Boys' Life magazine.
Erector Sets from the 1969 Sears Christmas Wish Book
Posted November 20, 2010