Annual 1969 American Aircraft Modeler

Table of Contents

ANNUAL EDITION 1969

Cover Photo:
One of the most popular of all the home-built aircraft is the E.A.A. biplane. Plans and instructions available form the Experimental Aircraft Association, who supplied this color picture.


EDITORIAL - STRAIGHT AND LEVEL, William J. Winter
6
SCALE- WHERE THE ACTION IS!
8
THE EAA BIPLANE, Nick Ziroli
12
WANT TO BUILD A REAL AIRPLANE? Paul H. Proberezny
18
Mo

dels in Industry

, Ron Moulton
20
PENNY-PINCHER
30
MIRACLE WORKER , John Blum
34
SWEEPER, Windy Urtnoski
38
MONTANA DUSTER, Simon Dreese
44
1969 Ra

dio Control Equipment Survey

, Ed Sweeney and Fred Marks
64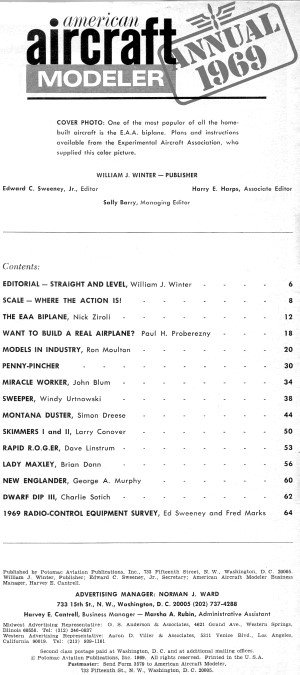 Posted April 16, 2011


Kirt BlattenbergerCarpe Diem!

(Seize the Day!)

Even during the busiest times of my life I have endeavored to maintain some form of model building activity. This site has been created to help me chronicle my journey through a lifelong involvement in model aviation, which all began in Mayo, MD ...
Webmaster:
Kirt Blattenberger
BSEE - KB3UON
Family Websites:
RF Cafe | Equine Kingdom

All trademarks, copyrights, patents, and other rights of ownership to images and text used on the Airplanes and Rockets website are hereby acknowledged.

Academy of Model
Aeronautics

Tower Hobbies

Horizon Hobby

Sig Mfg

Brodak Mfg