Annual 1969 American Aircraft Modeler

[

Table of Contents

]

Aircraft modeling has undergone significant changes over the decades - both in technology and preferences. Magazines like American Aircraft Modeler, and American Modeler before that, were the best venues for capturing snapshots of the status quo of the day. Still, many things never change, so much of the old content is relevant to today's modeler.

Whether you are here to wax nostalgic, or are just interested in learning history, hopefully you will find what you are seeking. As time permits, I will be glad to scan articles for you. All copyrights (if any) are hereby acknowledged.


ANNUAL EDITION 1969


Cover Photo:
One of the most popular of all the home-built aircraft is the E.A.A. biplane. Plans and instructions available form the Experimental Aircraft Association, who supplied this color picture.





| | |
| --- | --- |
| Contents: | |
| EDITORIAL - STRAIGHT AND LEVEL, William J. Winter | 6 |
| SCALE- WHERE THE ACTION IS! | 8 |
| THE EAA BIPLANE, Nick Ziroli | 12 |
| WANT TO BUILD A REAL AIRPLANE? Paul H. Proberezny | 18 |
| MODELS IN INDUSTRY, Ron Moulton | 20 |
| PENNY-PINCHER | 30 |
| MIRACLE WORKER , John Blum | 34 |
| SWEEPER, Windy Urtnoski | 38 |
| MONTANA DUSTER, Simon Dreese | 44 |
| | |
| | |
| | |
| | |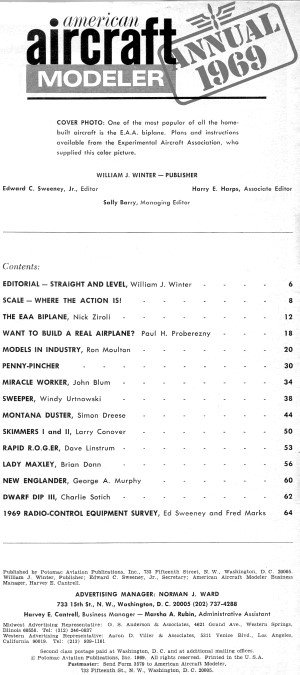 Posted 4/16/2011