June 1972 American Aircraft Modeler

[

Table of Contents

]

Aircraft modeling has undergone significant changes over the decades - both in technology and preferences. Magazines like American Aircraft Modeler, and American Modeler before that, were the best venues for capturing snapshots of the status quo of the day. Still, many things never change, so much of the old content is relevant to today's modeler.

Whether you are here to wax nostalgic, or are just interested in learning history, hopefully you will find what you are seeking. As time permits, I will be glad to scan articles for you. All copyrights (if any) are hereby acknowledged.


JUNE 1972
VOL. 74, NO. 6


Cover Photo: Dan Botteron's Ziln Akrobat as finished with a paint brush by the method described on page 29. Picture by AAM's Art Director Tom Murphy.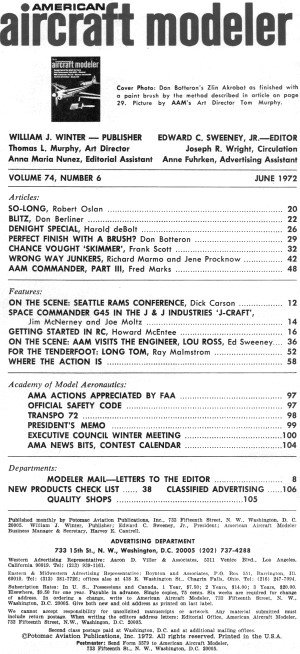 Posted 3/20/2011