November 1975 Model Aviation

Table of Contents

November 1975

Vol. 1, No. 5

Cover Photo: AMA Nationals '75, Lake Charles, LA. 1 - Phil Sullivan, Satellite 1000; 2 - Formula 1 pylon start, Dwayne Brown; 3 - Miles M-18 Outdoor Peanut and Guy Larsen; 4 - James McMullen's FAI Team Racer; 5 - Sterling Award winner, Stinson Station Wagon, Stephen Sauger; 6 - Indoor rubber model; 7 - Stephenie Perryman and Rubber Old-Timer; 8 - Nats logo; 9 - Tobias Grether, Hobie Hawk; 10 - Brent Bussell's CL Proto Speed model; 11 - Ernie Huber's Kavan Jet Ranger; 12 - Ed Prohaska's CL Stunt Astra 77; design Jim Kostecky; 13 - Scott Gesner and Liberty Sport..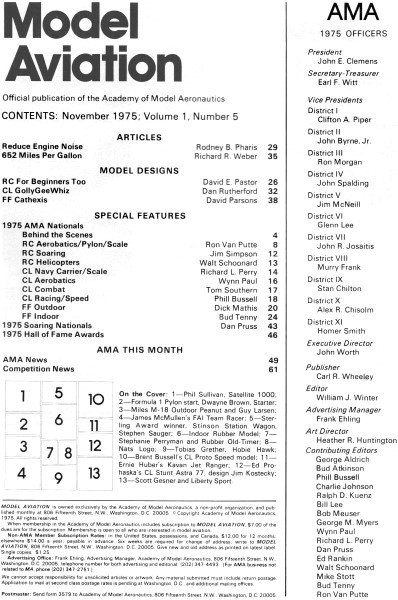 Posted3/23/2012

Kirt Blattenberger
Carpe Diem!


(Seize the Day!)

Even during the busiest times of my life I have endeavored to maintain some form of model building activity. This site has been created to help me chronicle my journey through a lifelong involvement in model aviation, which all began in Mayo, MD. There is a lot of good information and there are lot of pictures throughout the website that you will probably find useful, and might even bring back some old memories from your own days of yore. The website began life around 1996 as an EarthLink screen name of ModelAirplanes, and quickly grew to where more server space ...

Copyright 1996 - 2022
Webmaster:
Kirt Blattenberger
BSEE - KB3UON
Family Websites:
RF Cafe | Equine Kingdom

All trademarks, copyrights, patents, and other rights of ownership to images and
text used on the Airplanes and Rockets website are hereby acknowledged.