Just before Christmas 2015, Melanie and I made a trip to Jamestown, New York, and visited Lucile M. Wright (no relation to Wilbur and Orville) Air Museum. Is it located in downtown Jamestown at 300 North Main Street. There are plenty of areas with unmetered parking, so save yourself a couple quarters by driving a block or two to find it. Admission is free.
Here an excerpt from the museum's website regarding Jamestown's First Lady of Aviation:
"Lucile Miller Wright was a pioneer aviatrix. She was born in Beatrice, Nebraska and grew up in Billings, Montana. She discovered her love of flying as a young woman. In 1922 she went on her first flight with General Billy Mitchell, who was a personal friend of her father, Henry A. Miller. Mrs. Wright continually battled discrimination in pursuit of her passion...
Throughout her career, Mrs. Wright logged 8,000 hours of flying time in the seven planes she owned and 5,000,000 miles in commercial aircraft. During World War II, she was the only woman courier plot in Western New York under the Civil Air Patrol Program. She transported machine parts and defense personnel."
We were met at the door by Mr. Christopher (Chris, aka "Rocket Man") Centi, Planetarium Director and Space Science Coordinator. Since we were the sole visitors at the time, Chris provided a very informative, personal tour. There was a good reason why we were alone in there - unbeknownst to us, the museum had officially closed for the day a couple minutes before our arrival (we hadn't read the hours of operation sign on the door). It wasn't until after leaving that we realized Chris stayed around for thirty minutes just for our sake.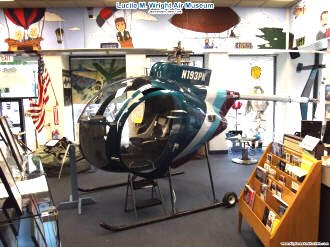 The collection on display at the Lucile M. Wright Air Museum is incredible - especially for such a relatively small venue (maybe 1,000 sq. ft.), and the exhibits are very well organized and labeled. The most present object upon entering the museum is a homebuilt Revolution "Mini 500" helicopter (a 3/4 scale Hughes 500 look-alike). Based on information found online, the safest place for one of these Mini 500s is on permanent static display, like this one is.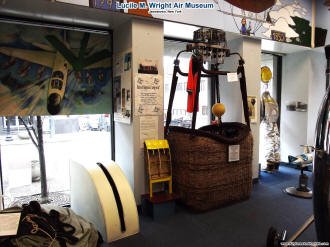 Easily seen from the south window as you enter the museum is a wicker gondola basket for a hot air balloon, complete with the overhead propane burners. Melanie and I lucked into a free balloon ride at a hot air balloon gathering in Morgantown, West Virginia, as gratitude for helping with getting everything set up and inflating the balloon. The craft was tethered to the ground and only went up about 100 feet, but that counts!
Space science display - Gemini capsule (left) and model rockets (right)
In the left rear part of the museum is a space display that includes some model rockets and, most notably, a near-scale cardboard model of a Gemini space capsule. The story behind its construction is interesting. Chris said the panels were originally supposed to be the multi-segment hemispherical dome for the in-house planetarium, but the panels did not interconnect properly. Rather than throw them away, Chris decided to design and build this model - clever, non?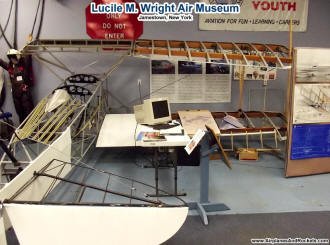 A Great Lakes Trainer biplane restoration project is underway by volunteers. It is located in the museum so that visitors can watch the progress. There are no plans to return the craft to flying condition. Instead, it will be used as a training platform and give visitors a look structures, control cabling, electrical wiring, and other details normally hidden from view by the outer covering. Here is a PDF file with photos of kids working on the Great Lakes Trainer.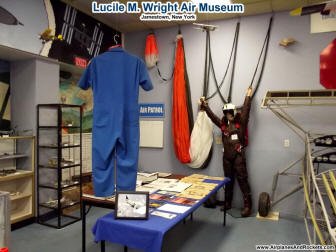 The Lucile M. Wright Air Museum is involved with the Civil Air Patrol (CAP) and dedicates a respectable area to its promotion. According to their website, a partnership with Jamestown Community College graduates Civil Air Patrol Cadets from the Student Exploratory Aircraft Mechanic (SEAM) course funded by the Chautauqua Region Community Foundation.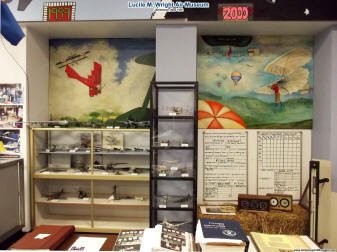 As you tour the museum, be sure to look on the walls up near the ceiling and notice all the murals that have been hand-painted by volunteers.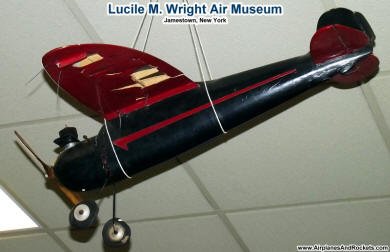 Hanging from the ceiling in various locations are model airplanes. One in particular grabbed my attention because it is a very old control line model with an ignition type engine. I am not able to identify either the airplane or the engine, and Chris did not know, either.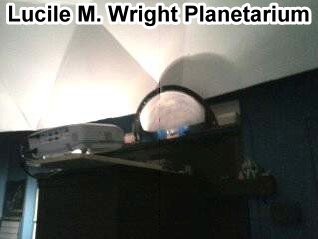 Remember the Gemini space capsule mentioned earlier made from cardboard that was supposed to be a planetarium dome? Well, here is the version of the dome with parts that fit. Chris is the mastermind behind this setup as well as many of the science-based displays scattered around the museum. Shown in the photo is the projector setup that uses a digital projector that reflects its image onto the dome's inside surface via a curved mirror - akin to an offset feed radio antenna. Pre-distortion software allows the projected image to be corrected for the unequal paths that each pixel takes from the projector's lens to the dome surface. It is a very ingenious accomplishment. The entire planetarium is contained in a room behind where the remote controlled Mars rover exhibit sits. The kids will love driving the Mars rover (a radio-controlled model) around the red sand 'Mars Yard.'
Well, I could go on for a long time reporting on everything we saw during our visit, but hopefully this information will be enough to whet your appetite and send you on a trip to the Lucile M. Wright Air Museum to see for yourself. Be sure to get there early enough to allow at least two hours if you really want to see everything they have to offer.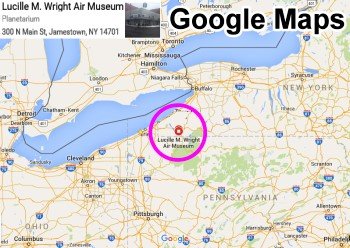 p.s. Chris Centi has a program he personally runs called Centi Astro-Space Activities (CASA). Per his website: "C A S A was started in its quest to improve science literacy. Space Exploration and Astronomy is used emphasizing hands-on sensory interaction. Christopher Centi the 'Rocket Man' is owner and CEO. He advocates for hands-on science, is an author, has appeared on TV & radio and is a member of several Space Science organizations. He was a Solar System Ambassador for the Jet Propulsion Laboratory (JPL) from 2001 - 2010." Impressive.
Posted April 30, 2016