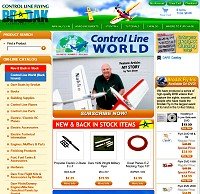 Local hobby shops (aka LHS) that carry a wide variety of model airplane kits, building supplies, and flying gear are getting more and more rare all the time, due primarily to online outlets that offer the products for lower prices. Some of that competitive edge was dulled when states began requiring companies to collect sales tax from everyone, regardless of residency. Even so, volume pricing from manufacturers has made running a LHS minimally profitable for most proprietors still in the business.
Brodak, unarguably the largest seller of control line flying supplies, has the advantage of being its own manufacturer for most of its products. Because of that, they are able to sell at the lowest prices possible for their proprietary line of goods. Control line model airplane kits, nuts and bolts and washer and other assembly hardware, flying lines and handles, landing gear, nitro fuel, dope, thinner, adjustable line leadouts, balsa, plywood, and all other manner of items listed on the Brodak website are produced, kitted, packaged, and shipped from a giant warehouse behind the hobby shop. When the shelves of the hobby shop run dry, employees restock directly from the warehouse. Mr. John Brodak, in case you do not know, is according to most people responsible for breathing new life into the control line aspect of model aviation. Prior to John's efforts to revive the hobby by building a huge inventory of C/L kits, engines, and supplies, control line was quickly fading against the rapid growth of radio control.
Melanie and I visited Brodak's Hobby Shop (Hobby & Video, actually), located in Carmichaels, Pennsylvania, while attending the 2016 Fly-In. We drove right by the place on the way to the flying field, never noticing the rather nondescript sign in the parking lot. As you can see by the Google StreetView screen shot above, it is sandwiched between a few other businesses that have no relation to the hobby shop. You would never suspect that one of the most fully stocked hobby shops in the country lies behind those doors.
Surprisingly, it is hard to find any photos of the hobby shop on the Internet, so here are a few of the ones I got whilst there. As you can see, the place is a cornucopia of model goodies! Be sure to click on the images for high resolution versions - you'll be amazed. Even so, the photos do not come close to representing the vast amount of specialty control line products available only from Brodak!
Aisles are filled with everything the Control Line modelers needs!
There's plenty of stuff for R/Cers and FFers as well.
Coming soon - a report on the Brodak Manufacturing operation, including videos.
Posted July 16, 2016