Inverted Jenny Postage Stamp Re-Issued!

Having been an amateur philatelist for more than 40 years, I am quite familiar with the very valuable "Inverted Jenny" misprint stamp that occurred during the initial printing of America's first Air Mail stamp in 1918. Supposedly only one sheet of 100 stamps got past the inspectors before the error was caught; inversions were common in the day for multi-colored stamps. The blue Curtiss JN-4 Jenny biplane, one of the most commonly used airmail planes, was printed upside down as the result of the first red printing sheet being fed backwards into the printing machine. To date the highest price paid for a single mint-condition, never-hinged example is $825k. Since I rarely go into a post office, I was amazed and pleasantly surprised to see a poster announcing that a replica of the stamp had been issued; it appealed greatly to both the stamp collector and the airplane modeler in me. Issues like this are almost pure profit for Post Office since they know enthusiasts like me will go buy at least one sheet ($2 each x 6 per sheet = $12). Con men would call me an easy mark for such schemes.

Dig this: The USPO purposely (so they claim) printed 100 sheets with "rightside-up" Jennys in order to feed a collector frenzy.

From the U.S. Post Office website:

"These self-adhesive stamps are being issued in sheets of 6.

This souvenir sheet features a new version of perhaps the most famous error in the history of U.S. stamps: the Inverted Jenny, a 1918 misprint that highlights the ways a single stamp can turn history upside down.

The sheet includes six Inverted Jenny stamps, reprinted with an updated denomination and surrounded by an illustration that includes the National Postal Museum in Washington, D.C.; the route of the first regularly scheduled airmail service between Washington, Philadelphia, and New York; and aviation pioneer Reuben H. Fleet, who was in charge of the first group of airmail pilots. The intaglio printing plates for the new stamps were created using proofs made in 2013 from the original Inverted Jenny dies.

Issued to commemorate the start of the first regular airmail service in the United States, the original Jenny stamp was designed to show a Curtiss JN-4H, or "Jenny," the biplane used to deliver the mail. However, on May 14, 1918, the day an official notice said the stamp would debut, collector William T. Robey of Washington, D.C., purchased one sheet of 100 stamps that mistakenly showed the biplane upside down-and one of the greatest philatelic treasures in U.S history was released into the world.

The art director for this souvenir sheet was Antonio Alcalá. The selvage artwork was created by Steven Noble.

The new Inverted Jenny stamp is being reprinted with a $2 denomination to make it easily distinguishable from the 24-cent 1918 original.

Made in the USA

Issue Date: September 22, 2013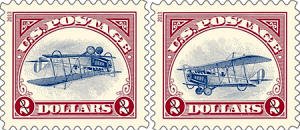 Postal Service Announces Very Limited Edition Stamps Circulated with Recent Issue of Famous 'Upside Down' Jenny Stamp

Customers who purchased Inverted Jenny stamps could have one of only 100 stamp sheets printed with plane flying 'right side up,'

First recipient comes forward October 02, 2013
Posted November 30, 2013


Kirt BlattenbergerCarpe Diem!

(Seize the Day!)

Even during the busiest times of my life I have endeavored to maintain some form of model building activity. This site has been created to help me chronicle my journey through a lifelong involvement in model aviation, which all began in Mayo, MD ...
Webmaster:
Kirt Blattenberger
BSEE - KB3UON
Family Websites:
RF Cafe | Equine Kingdom

All trademarks, copyrights, patents, and other rights of ownership to images and text used on the Airplanes and Rockets website are hereby acknowledged.

Academy of Model
Aeronautics

Tower Hobbies

Horizon Hobby

Sig Mfg

Brodak Mfg