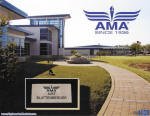 The last time I appeared in Model Aviation was around 2000 when they published a few modeling themed crossword puzzles I constructed. Now, in the March 2016 edition, appears not just one but three honorable mentions. Thanks to the editors.
The first is in the list of donors for the AMA Museum. Melanie paid for one of the memorial "Walk of Fame" sidewalk bricks as a Christmas present, so my name (Kirt Blattenberger) showed up in there.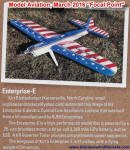 The second is in the "Focal Point" feature where models built by AMA members are posted along with a brief description. My "Enterprise-E" electric-powered control line model is displayed. There is a web page dedicated to the Enterprise-E construction and first flight here on the AirplanesAndRockets.com website.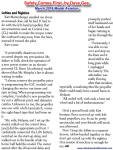 Third, but by no means least, is an account in Dave Gee's "Safety Comes First" column that relates a scary experience I had during one flight with the Enterprise-E. I had sent him an e-mail telling of how after doing some re-programming on the ESC timer I switched out the propeller for a new one and forgot to notice that is was of the left-hand pitch type. That caused some excitement when the motor started!
Posted March 5, 2016