Sometime in the very early 1970s I had purchased and built my first 'real' control line model, a Jetco Shark "15." It needed a metal fuel tank, some wheels, and fuel line larger than the thin plastic type I had been using with the Cox control line models. Being young an ignorant, I did not bother to include such items in my purchase order from America's Hobby Center. There were no local hobby shops in my small town area of Mayo, Maryland, so I was faced with the prospect of waiting weeks for another order to arrive. Back then you typically placed a paper order form and a personal check in the mail, hoping to receive your supplies within a month.
Fortunately, father, Art Blattenberger, who was the Classified Advertising Department manager at the Evening Capital newspaper in Annapolis, had been talking about my aeromodeling hobby to a reporter he knew who worked the Baltimore location, and the guy offered to stop by Lloyd's Hobby Shop on 2201 North Charles Street to pick up the items I needed. Needless to say, he was my newest hero. In the preceding couple years he generously made several

trips for me, including supplies for my Carl Goldberg 1/2A Skylane. I specifically recall him delivering a box of Trexler Air Balloon Wheels I requested for a rubber-powered free flight Piper Cub. I also remember not also buying the little air pump and having to inflate them by blowing through the tiny tube!
Anyway, the point of this article to to hopefully find someone who remembers Lloyd's Hobby Shop and can provide some details and maybe even a photo. The advertisement shown above was found online in a 1960 edition of Model Railroad Craftsman magazine. A Google Street View search of Lloyd's Hobby Shop's former location reveals a rather ghetto-looking area of Baltimore - someplace I would avoid if needing to visit a hobby shop today.
Update: Not too often, but every once in a while I am fortunate to have someone seen my request for a response to an article posted on the AirplanesAndRockets.com website. This time, no less than the grandson of Lloyd's Train & Hobby shop owner Ed Finn submitted this amazing information (with permission):
"Hi Kirt,

My name is Chris Dorn and I live in Eden Prairie, MN. And in response to your question, "Yes", I certainly do remember Lloyd's as my grandfather, Edward (Ed) Finn was the owner from the early 50's until the late 70's.

As I understand the story, my grandfather worked for Lloyd when the store was originally located at 2111 N. Charles St. At the time Lloyd's was both a print shop and a model train shop. In 1953 or 1954, Lloyd split the business keeping the print shop and selling the model train portion to Granddad Finn. They were co-located for some time until my grandfather moved the hobby shop to the northeast corner of Charles and 22nd streets where they remained for several years.

In the early 1960's, the neighborhood took a turn for the worse inspiring a move to 1012 York Rd. in Towson, MD where the store prospered with a loyal client base. During the time in Towson, as a little guy, I would often accompany my grandfather to work and hangout for the day doing important chores like sweeping floors and bagging purchases for customers. I was "paid" in corgi cars, matchbox cars and Lionel train cars, many of which I still have today. Granddad ran the store until the late 70's when he sold it to a long-term employee Joe Doehler.

In addition to the shop, in his pastime, my grandfather enjoyed his own RC boats and planes later moving on to building scale live steam engines. Additionally he was was involved in a small company in a venture called Railroad Passenger Cars Inc. The company, mostly made up of volunteer train enthusiast, purchased and refurbished old 1930 / 1940 passenger cars and leased them back to the railroads for excursions. The group was located in Camden Yards when it was know as a train yard vs a baseball field. Toward his later years he focused to making wooden toys that he gave to local children and donated to the church.

I have no photos of the shop, but I did attach a photo of Granddad Finn c.1964 with one of his RC boats.

Thanks for asking the question. In a crazy coincidence, it showed up at a time when I was doing a little internet research and inspired a call to my mom in South Carolina to do a little fact checking.

Best regards,

Chis Dorn"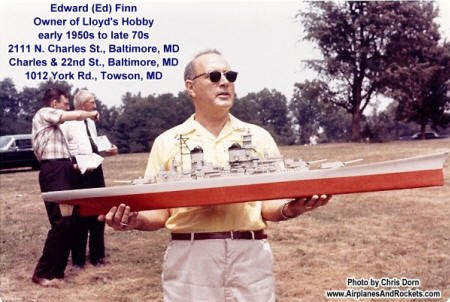 Update: This article from the December 8, 1994 edition of The Baltimore Sun mentions Lloyd's Hobby Shop.
Update: Here is the obituary for the proprietor of Lloyd's Hobby Shop in the July 17, 1996 edition of The Baltimore Sun.
Posted January 9, 2016