Snowbird - The World's1st Successful Ornithopter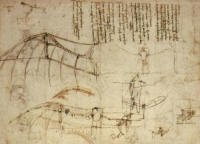 On August 2, 2009, students from the University of Toronto Institute of Technology set a world record for sustained man-powered ornithopter flight - 19.3 seconds, covering a distance of 145 meters at an average speed of 25.6 k/hr. The included video records that flight which took place at the Great Lakes Gliding Club in Tottenham in Ontario, Canada, in the
presence of the Federation Aeronautique Internationale (FAI). The "Snowbird" weighs in at just 45 kg (99 pounds w/o pilot), and has a wing span of 32 meters (105 feet), and is powered by a 0.3 hp engine (the human pilot). Model building skills and materials are used throughout; e.g., carbon fiber, Styrofoam and balsa, CA glue and vacuum-bagging laminated assemblies. Details of the aircraft structure and wing-flapping device are hard to find.


Here is the video of the epic event





Ruh-Roh, here's what also happened...