This Parris-Dunn "Little Bobby" Helicopter Kit may well be the only one left in existence. Many thanks to Mr. Steven Krick for providing the kit to me for documenting. I will contact the Academy of Model Aeronautics' (AMA's) National Model Aviation Museum in Muncie, Indiana, to find out if they want it for their collection of model aviation historical items. A fairly extensive search on the World Wide Web (WWW) turned up exactly zero other examples of this kit, or any mention of it for that matter.
Parris-Dunn was primarily a wind-powered electricity generator company located in Clarinda, Iowa, formed in the 1930s. In the days before commercial electric power was delivered to rural areas, farms and homes were run on DC (direct current) power provided by banks of lead-acid storage batteries, so the generators were very popular as a means of recharging them. Many early radio sets and household appliances - as well as electric lights - were designed to run on DC, and also on either DC or AC. It filled the gap until after 1936 when the Rural Electrification Act was signed into law requiring utilities to make AC power available to everyone (with government, aka tax dollars, subsidization if needed). As a side note, if Thomas Edison had prevailed over Nikola Tesla in "The War of the Currents," the AC versions would not have been needed.
Prior to the joint venture with Cecil Parris, William Dunn designed and built a full-size monoplane in 1928 called the Dunn K-5 Cruzaire. That pretty much establishes his interest in things aeronautical, including big propellers like those on his wind turbines and this kite-helicopter model.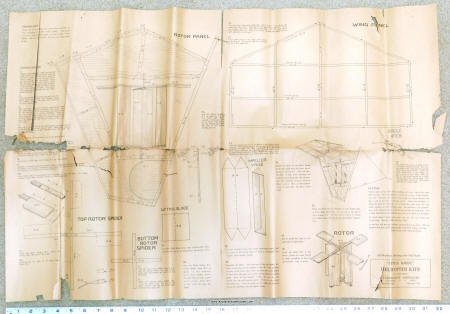 Posted July 6, 2019