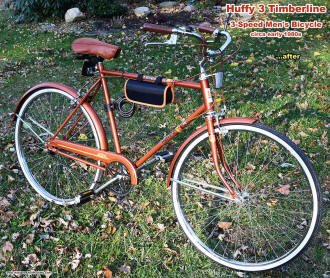 Last week I posted the first part of a story about two 1980s-vintage bicycles I bought from a guy off craigslist. That was the complete teardown and restoration of Melanie's Columbia Commuter III, 3-speed women's model. This page has photos from doing the same thing to my Huffy 3 Timberline, 3-speed men's bicycle. Rather than repeat all the textual description from Melanie's bike, please click on the above hyperlink to read it; it's not very long. At some point I will scan and post the owner's manuals for both bicycles.

One important aspect worth repeating is the use of Krud Kutter for removing all the oil and grease. The stuff is amazing. Krud Kutter claims " Easily removes glue and adhesive, grease and oil, marker and crayon, paint overspray, pet stains, tape residue, tree sap, wax, and much more. A proprietary blend of biodegradable surfactants, detergents, and emulsifiers, in a water-based solution. Water-based, biodegradable, non-flammable, non-toxic and non-abrasive. No petroleum solvents, bleach or ammonia." I soaked all the parts overnight that would fit in a bucket filled with a gallon of it. Upon removing even the grimiest and greasiest components like the gearbox, bearings, and the chain, I discovered they were squeaky clean. A toothbrush removed any vestige of oil, grease, or dirt from the nooks and crannies. Compressed air was used to blow everything dry. Gears, bearings, and the chain were then immersed in a pot of motor oil to thoroughly coat the surfaces and keep them from the air until reassembly.
All the painted surfaces were waxed and buffed twice, bearings and gears were packed with grease, and the chain and cables (gear shifter and brakes) were lubricated with 3-in-1 oil. Interestingly, one of the ball bearing assemblies in the rear hub was missing one of the 1/4" steel balls. It was nowhere within the hub, so it had to have been missing when assembled at the factory - weird, non? Fortunately, the balls are easy to get and are inexpensive, so I was able to pop a new one in place.
The Before and After photos below speak for themselves, so I won't bore you with lengthy description. It is worth mentioning that all of the original ball bearing and gear grease on both bicycles was hard and would have provided no protection from wear had I not cleaned off and replaced it all. Lots of photos were taken during disassembly to make sure I could get it all back together later.
Posted December 2, 2017