This 4-view for the USAF's Cessna L-27A (military version of the Cessna 310A) was scanned from page 14 of my purchased copy of the December 1957 American Modeler magazine. The 4-view for this fine model was drawn by Mr. Walter M. Jefferies, Jr. All copyrights (if any) are hereby acknowledged.
"In 1957, the US Air Force selected the Cessna 310 for service as a light utility aircraft for transport and administrative support. The USAF purchased 160 unmodified 310A aircraft with the designation L-27A and unofficially nicknamed Blue Canoe, later changed to U-3A in 1962. An additional 36 upgraded 310 designated L-27B (later U-3B) were delivered in 1960-61; these aircraft were essentially military 310Fs and as such equipped with the more powerful 260 hp (194 kW) engines and can be identified by their extra cabin windows, longer nose and swept vertical fin. A USAF study after one year of operational service found the U-3A had direct operating costs of less than $12 an hour. " - Wikipedia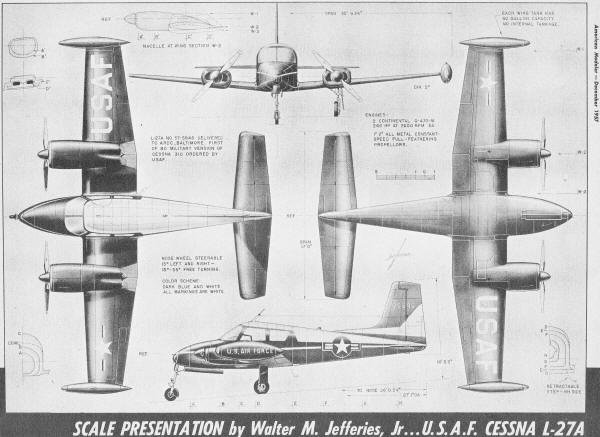 <click image for larger version>
Notice:
The AMA Plans Service offers a full-size version of many of the plans show here at a very reasonable cost. They will scale the plans any size for you. It is always best to buy printed plans because my scanner versions often have distortions that can cause parts to fit poorly. Purchasing plans also help to support the operation of the Academy of Model Aeronautics - the #1 advocate for model aviation throughout the world. If the AMA no longer has this plan on file, I will be glad to send you my higher resolution version.
Posted August 1, 2010