Kirt Blattenberger
Carpe Diem!
(Seize the Day!)

Even during the busiest times of my life I have endeavored to maintain some form of model building activity. This site has been created to help me chronicle my journey through a lifelong involvement in model aviation, which all began in Mayo, MD ...

Webmaster:
Kirt Blattenberger
BSEE - KB3UON
Family Websites:
RF Cafe | Equine Kingdom

All trademarks, copyrights, patents, and other rights of ownership to images and text used on the Airplanes and Rockets website are hereby acknowledged.
Harrier Jump Jet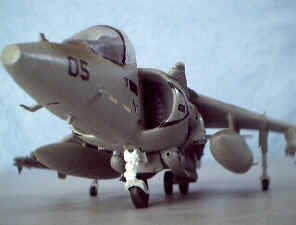 As part of my attempt (unsuccessful) to get Philip interested in building models, we built this Harrier kit. It was sometime around 1996, when we were living in Palm Bay, FL.

You can't see it from this picture, but scale camouflage was done using a cardboard cutout mask of the pattern outlines, then holding it just above the base color and spraying. It produced a nice blended line rather than a sharp edge that using masking tape would have left.

Academy of Model
Aeronautics

Tower Hobbies