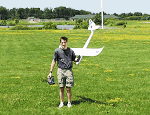 After about a 12-month hiatus from flying any kind of model airplane, and having sold all of my RC gear prior to moving to Erie, PA, I looked around for something that would get me back into the air quickly. My first inclination was to build yet another Spirit 2-meter sailplane and put a brushless motor in it like before, but I really didn't want to have to take the time to build it first. I also did not particularly care for most of the ARF gliders that were available, but seeing the ParkZone Radian sailplane on the Horizon Hobby website and watching the video of its flight convinced me to spring the $250 for the RTF version. There certainly is no better value out there - a nice-looking sailplane with brushless motor and controller, servos, a 3-cell Li-Po battery, and a charger, along with a 2.4 GHz spread spectrum radio system. You cannot buy the parts individually for that much. See September 7, 2009 update: Assembly was a piece of cake - just slide the horizontal stabilizer / elevator into place and secure it with the supplied clear tape...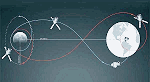 "NASA's Orion space capsule, which is in day 15 of its Artemis 1 test flight, is scheduled to leave its current distant retrograde orbit on Thursday, as the spacecraft begins the process of returning home to Earth. Artemis 1 mission management leaders provided a preview on Wednesday, from Johnson Space Center, of the upcoming maneuver that will ultimately send the test flight past the moon and back to Earth on Dec. 11. "The distant retrograde departure, which is scheduled as part of a planned maneuver on Dec. 1, in the afternoon, and then followed by the return powered flyby scheduled for Dec. 5, in the morning," Mike Sarafin, NASA Artemis 1 Mission Manager, said at Wednesday's briefing. "That will begin the process of..."

This is a very interesting article about the FCC's "Secrecy of Communications" rules. Manmade radio interference (QRM in Ham lingo), has been a problem since the early days of wireless communications. You might convincingly argue that it was worse at a time when many transmitters were of the arc type that basically spewed out a mess of RF energy within a specified bandwidth (very wide compared to today) to signal the presence of a "dit" (a digital "1"), with the absence of a signal being a "dah" (digital "0"). Filter technology for both the transmit and receive sides was also poor, allowing unintentional RF noise to be sent over the air and to find its way into the detector circuits. The Federal Communications Commission (FCC), first formed in 1934, nearly four decades after Guglielmo Marconi first demonstrated his wireless set in 1896. Sometime around 1952, the FCC allocated a half dozen frequencies in the 27 MHz for radio control (R/C) model use, mixed within the existing citizens band (CB) radio channels. As you might imagine, interference problems were rampant, especially near metro areas and highways with heavy truck traffic. This editorial in a 1969 issue of American Aircraft Modeler magazine reports on just how bad things had gotten, especially that caused by operators using faulty and/or illegally modified transmitters, and even by malicious intentional attempts to "shoot down" model airplanes by keying transmitters in the vicinity of flight activity. In 1965, the FCC allocated...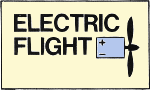 Things were all so simple then; time has rewritten every line - to paraphrase a popular song from the mid-1970's. That was the era when this 1975 issue of American Aircraft Modeler magazine ran the Electric Flight Action column by Mitch Poling. Having just entered into the radio control (R/C) phase of aeromodeling at the time, I was not too overly interested in electric flight since my prior experience had been with glow fuel powered control line models. Electric propulsion systems were overly heavy, overly large, and underly (sic) powerful. Brushed motors with standard magnets, and usually without ball bearings on the shaft lacked the power of today's brushless motors. Nickel cadmium (NiCad) batteries have about a quarter the energy storage density as lithium types (Li-Ion or Li-Po, so combined with the low efficiency of the motors, flight times were very short. My first experience with an R/C e-powered model was a Great Plane Spectra sailplane, which was a powered version of their 2-Meter Spirit glider. a while later I tried a Carl Goldberg Mirage 550 e-powered model. Both were plagued with brush and commutator problems. All of those issues have been solved with modern brushless motors and Li-Po batteries - which have their own issues, primarily cost and fire hazards. I wonder whether modern material and methods...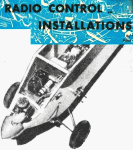 Anyone who has been in aeromodeling for more than a decade or so is familiar with the name William (Bill) Winter. Bill has been in the model airplane realm for longer than a lot of us have been alive and is one of the true pioneers of the sport. He has served as editor for a couple aircraft modeling magazines, and has written countless articles both for the magazines he edited and for other special interest magazines. When Popular Electronics came on the scene in the mid 1950s, Bill was editor of Model Airplane News magazine. Radio control was beginning to mature from its infant state when only hobbyists with an intimate knowledge of electronics were able to participate. Oliver Read, editor of Popular Electronics, tapped Bill's ample knowledge and skill to craft quite a few articles for his own magazine. This one, "Radio Control Installations," appeared in the February 1955 issue. As always when reading this type of vintage material, it is amazing how much innovation has occurred between then and today in the fields of electronics, materials, and construction techniques...
Anyone who watched the WKRP in Cincinnati sitcom back in the 1970s has to remember what was one of the funniest episodes ever. Here is the 4 minutes that made Prime Time history. In this Thanksgiving episode, station owner / manager Arthur Carlson decided he would surprise the community with good deed - that doubled as a promotional stunt for his radio station - by dropping turkeys from a helicopter for lucky shoppers at the local shopping mall. Watch the disaster unfold as Les Nessman reports live, and then see Carlson's final comment that is still used or alluded to in many comic routines. Posting this video is an RF Cafe tradition. Have a Happy Thanksgiving!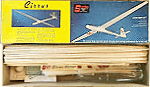 Back in the early to mid 1970s, I built a Sterling Cirrus sailplane kit. Shortly thereafter I bought my first radio control system (a used 3-channel OS Digitron), and in a somewhat desperate attempt to fly an RC glider, actually managed to cram two of its huge servos, a huge metal-cased receiver, and a NiCad airborne battery pack (the only part that has not gotten smaller in the intervening 50 years) into the cockpit area. Although the cockpit was very spacious, the balsa frame construction was way too weak to support a radio system, but that didn't stop me... well, not right away anyway. The ready-to-fly weight was probably three times the recommended 12 ounce nominal. Although the Cirrus has a generous 87-5/16" wingspan, with it 25:1 aspect ratio, the root chord is only a little over 4" and the wingtip chord is around 1". Even with vertical sheer webbing between the upper and lower main spars, the wing was far too weak for so much weight. After much work covering the undercambered airfoil and compound curves around the fuselage with Japanese tissue and brushing on a few coats of clear dope, it was finally ready to fly...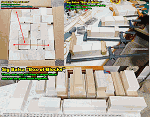 The cost of balsa, like everything else, has been rising significantly since the COVID-19 "plandemic" hit the world a couple years ago. Along with it the price of manufactured kits has gone up as well. A simple 1/16" x 3" sheet of balsa now costs around $2.00 (Sig price). In 2019, you could get it for $1.13 per the stored page at Archive.org. That's a 77% increase. Being a scratch builder of model airplanes, I frequently watch e-Bay, RC Universe, RC Groups, etc., for bargains on balsa, but they're getting harder to come by. If you have to order a balsa block online, there is a good chance it will end up being more dense (i.e., harder and heavier) than desired. Since local hobby shops (LHS's) are very rare these days, there is seldom an opportunity to go in and look for a suitable block prior to purchasing...

"How it grew from the Wright brothers' airplane to become the largest military branch of its kind in history. A B-17G Flying Fortress and a B-52H Stratofortress fly in a heritage flight formation on Saturday, May 13, 2006 during the Defenders of Liberty Airshow at Barksdale Air Force Base, Louisiana. These two aircraft represent 70 years of "fortresses." It was the first time in 50 years that they flew together in formation. Millions across the nation and around the world celebrated the 75th anniversary of the United States Air Force on September 18, 2022. FLYING also celebrates this 'birthday' and salutes the men and women who serve - and who have served - as members of the U.S. Air Force and its predecessors. Origins: Orville Wright made the world's first controlled, powered, and sustained heavier-than-air human flight on December 17, 1903. Less than four years later (August 1, 1907), the U.S. Army Signal Corps formed an Aeronautical Division..."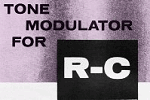 Declaring any kind of straight LC tank circuit to be high stability is a bit of a stretch when compared to the Q available simply by adding a crystal, even in 1958. Tone modulation was an early method for achieving remote control of model airplanes, boats, and cars. The number of channels with these tone modulation systems is two times the number of modern proportional systems in that moving the rudder left took one channel and moving it right took another. Up and down elevator likewise took two channels. Therefore, this four channel system is only two channels by today's terminology. Technology evolved into fully proportional systems on crystal-controlled 27 MHz using pulse position modulation (PPM), then to 72 MHz, and today nearly every every R/C uses a combination of frequency-hopping spread spectrum (FHSS) and direct-sequence spread spectrum (DSSS) in the 2.4 GHz ISM band...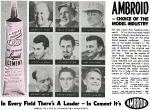 Ambroid was probably the biggest name in model aircraft cement. It has been around in one form or another since the early 1900s. The name is a portmanteau of amber (its color) and celluloid. By the time I got into the balsa model building scene in the late 1960's, Duco cement was being fairly widely used, and since it is what was on the shelf of my local convenience store, that's what I used. A few years later when I was driving and could visit hobby shops, I tried Ambroid cement, but never really took to it, primarily because it seemed to get brittle quickly. There was never a joint failure I could attribute to Duco cement, so I stuck with it (pun intended). About ten years or so ago the price of Duco cement began going way up, so nowadays I use mostly Sigment*. I had used Sigment occasionally prior to that and had confidence in its integrity. It appears Ambroid cement is no longer being manufactured, but Sigment is, so I highly recommend it as a general purpose glue for balsa structures...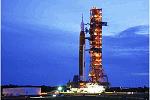 All the world's astronauts have been launched to the ISS via the communist, America-hating countries of Russia and China since the Space Shuttle program shut down in 2011, with no standby replacement capability. "NASA's moon rocket is back on the pad for another launch attempt, following more repairs. The 322-foot rocket departed its hangar in the middle of the night and completed the 4-mile trip shortly after sunrise Friday. NASA is aiming for a launch attempt on Nov. 14, sending an empty crew capsule around the moon and back in a dramatic flight test before astronauts climb aboard in a couple years. Forecasters are keeping their eyes on potential tropical weather that could interfere. It is NASA's biggest step yet to get astronauts back on the moon by 2025. The space agency is nearing the 50th anniversary of its last human moon landing: Apollo 17 in December 1972..."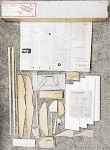 My Ace All Star biplane was built while I was stationed at Robins Air Force Base, in Warner Robins, Georgia (just south of Macon). A pair of foam wings help it to build quickly. Ace sold both this tapered chord version and a constant chord version of the foam wings for decades, and they are still very popular on eBay when they come up for sale. I put an OS .15 engine up front, and three channels worth of Hobby Shack Cirrus 4-channel radio in it. My memory of the All Star is not very clear, although I do remember flying it in a field somewhere out on the back 40 (more like back 400) acres of the base where no full-size air traffic ventured. It lost its life during some dumb low-level maneuver, and went down really far away. That involved walking through a lot of tall grass - in Georgia, where snakes and even alligators were not uncommon. I seriously considered just leaving it there, but my unwillingness to abandon that amount of investment (quite a lot for a USAF enlisted guy's pay) overpowered the chicken-ness in me and I cautiously waded over to it. I snatched it up and made like an F-15 back to open ground exactly in the path from which I came...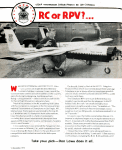 I remember receiving my copy of the September 1973 issue of American Aircraft Modeler magazine with the photo of the Sparrow RPV (remotely piloted vehicle) on the cover. Such a thing was a big deal back in the day. It was ground-breaking research and development for small RPVs with real-time video feedback. There was no Global Positioning System (GPS) to help guide the airplane and flight stabilization was relatively crude. Well-known R/C modeler and former AMA president Don Lowe was on the team. "On Monday, Oct 19th Jim Dalton and Doug Erhardt delivered a new aircraft to the museum, the Sparrow. Offered by Jim and accepted by the Museum's Acquisition committee, the aircraft was designed by Raymond Fredette of the Flight Dynamics Laboratory at Wright-Patterson Air Force Base in the early 1970s..."

If you thought the only 1940's-60's era vehicles still serving as mainstream transportation in Cuba were rusting hulks of Chevys and Fords, check out this Antonov An−2 biplane just used by pilot Ruben Martinez to escape the island paradise. This plane could have been on an airport tarmac during the Cuban Missile Crisis. That beautiful radial engine is similar to the ones in the Boeing B−17 Superfortress used in WWII. Maybe Mr. Martinez should have routed his flight to cross into the USA via Mexico, because recently some Cuban refugees arriving via the ocean have been returned, while millions of undocumented, unauthorized aliens are welcomed at the land border. The State Department began allowing travel to Cuba for certain purposes in 2017 in spite of the long-standing atrocious human rights policies. Here is a video of an R/C Antonov An−2...
To the average Joe model builder who otherwise has no shot at national recognition, having his model airplane featured in a magazine like this 1939 issue of Flying Aces was a major source of pride. Even today with easy access to making yourself known on the Internet, there is still something special about seeing your self and/or your model appear in print. The Academy of Model Aeronautics (AMAs) has each month a "Focal Point" section in its Model Aviation magazine consisting of a collection of photos and descriptions of models submitted by members. Most seem to be radio control, with an occasional control line or free flight model. I even managed to have my scratch built 105% Aquila sailplane in there a few years ago. As you can see in this "With the Model Builders" page that there were no R/C models at all. The Good brothers (Walt and Bill) were still in the early stages of developing reliable radio systems at the time...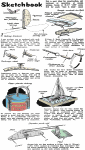 This Sketchbook was scanned from the March 1957 issue of American Modeler magazine, published by the Academy of Model Aeronautics. Most building tips are timeless. Even in this era of ready-to-fly (RTF), almost-ready-to-fly (ARF), bind-and-fly (BAF), etc., there are still many modelers who build their own aircraft. Nearly all top tier competition fliers build their own models, as do aficionados of vintage (aka old-timer) models. Some guys just would rather build than buy a pre-build airplane, whether from a kit or from plans. I like the idea of using a sharpened bullet cartridge for boring lightening holes in ribs, tail surfaces, etc., rather than using a drill bit. The tip about using a slot in the bellcrank for the flaps of a control line stunt models seems a bit iffy, since it can permit oscillations (fluttering) during normal flight...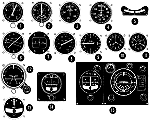 Sure, you can go online and find hundreds or maybe thousands of instances of real-life aircraft instrument images for your model airplane or helicopter, then scale them to the right size and do a high definition color printout for gluing onto the panel of your latest pride and joy. However, prior to just a couple decades ago, the task was more difficult. You could fairly easily find instrument images in magazines and books and then make copies on a printer or copying machine; some even had a scaling function allowing you to change the size to fit your need. That was so for about the last four to five decades, and often gaining access to a printer. Before that, it was necessary to either be lucky enough to find printed images of the correct size, or buy a set of printed instruments from a company that sold instruments sets of various scales...
Airplanes and Rockets website visitor Lieven M. requested that this article on the Blohm Voss 141-B (BV 141-B) be scanned and posted from the August 1970 edition of American Aircraft Modeler magazine. The BV 141-B, designed by Mr. Terry Aldrich, is a unique scale subject in that it is a World War II German fighter-bomber featuring an asymmetrical configuration. It looks sort of like a P-38 Lightning with the right boom missing. The engine in on the left at the nose end of the single fuselage boom, and the pilot compartment is on the right, on the wing. The horizontal stabilizer span is about 80% to the left of the vertical fin, and 20% to the right of it. Construction uses sheet balsa for the wings, tail surfaces, and profile fuselage. Power is provided by a single 049 engine...