I bought a 1969 edition of the Sears, Roebuck & Co.'s Christmas Wish Book on eBay. It was the year I turned 11 years old, and was also the year of the Apollo 11 moon landing. Remembering how I eagerly awaited those pages filled with advertisements for model airplanes, boats, guns, Erector sets, and countless other things, I figured it might be nice to look through one again. Here is the
1967 Montgomery Ward Christmas Catalog
, the
1969 Montgomery Ward Christmas Catalog
and the
1969 Sears Christmas Wish Book
. Enjoy!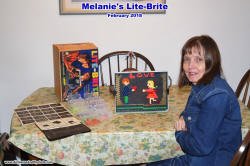 When Melanie and I got married in 1983, part of her dowry included some of the toys she had as a little girl. A Hasbro Lite-Brite was one of them. Our kids played with it when they were young, but somewhere along the line during our many household moves, it disappeared. We probably donated it to the Salvation Army at some point - a lot of our stuff has
ended up there. About a month ago we started watching for a good one on eBay that didn't cost too much.
Finally, last week there was a 1967-vintage Lite-Brite in like-new condition up for auction that we got for around $45. It has a nice box, scads of plastic light pegs, the instructions, and some of the black paper patterns. The 25 W bulb appears to be an older style GE type - and it works! The Lite-Brite is now on display like all our other old stuff that we had as kids. It's been really nice collecting it all, and the cost is not bad compared to drinking, smoking, or doing drugs - neither of which either of us does :-)
The catalog page is from the 1969 Sears Christmas Wish Book, page 465.
Posted February 25, 2018