I bought a 1969 edition of the Sears, Roebuck & Co.'s Christmas Wish Book on eBay. It was the year I turned 11 years old, and was also the year of the Apollo 11 moon landing. Remembering how I eagerly awaited those pages filled with advertisements for model airplanes, boats, guns, Erector sets, and countless other things, I figured it might be nice to look through one again. Here is the
1967 Montgomery Ward Christmas Catalog
, the
1969 Montgomery Ward Christmas Catalog
and the
1969 Sears Christmas Wish Book
. Enjoy!
Here on page 513 of the Sears 1969 Christmas Wish Book are three .049-powered models - the Vaught F4U Corsair (actually an F2G-1) control line airplane, the Sea Bee speed boat, and the 1/25-scale Dune Buggy.
If memory serves me correctly, I crashed... er... owned one of the Corsairs back in the era. $11.95 for the Corsair then, probably $150 for one off of eBay today.
Update: I bought a nice Cox F2G-1 Corsair control line model off eBay in April of 2015. Click the link to see photos.
Use the U.S. Bureau of Labor Statistics' inflation calculator to see what items cost in today's dollars. That $11.99 would equal $73.49 in 2011 money.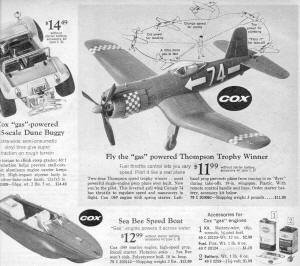 Posted November 20, 2011