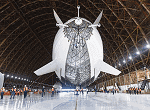 "At Moffett Field in Mountain View, CA, Lighter Than Air (LTA) Research is floating a new approach to a technology that saw its rise and fall a century ago: airships. Although airships have long since been supplanted by planes, LTA, which was founded in 2015 by CEO Alan Weston, believes that through a combination of new materials, better construction techniques, and technological advancements, airships are poised to - not reclaim the skies, certainly - but find a new niche. Although airships never died off entirely - the Goodyear blimps, familiar to sports fans, are proof of that - the industry was already in decline by 1937, the year of the Hindenburg disaster. By the end of World War II, airships couldn't compete with the speed airplanes offered, and they required larger crews. Today, what airships still linger serve primarily for advertising and sightseeing. LTA's Pathfinder 1 carries bigger dreams than hovering over a sports stadium, however..."
The Academy of Model Aeronautics (AMA) has a webpage filled with great vintage videos showcasing key moments and accomplishments in model aviation. Included is a documentary on Dr.'s Walt and Bill Good, who pioneered radio control electronics and airframes to pave the way for incredibly complex and reliable systems we enjoy today. "The Choppers" takes a look at the history of R/C helicopters, beginning with the 1971 Nats when two of Dieter Schlueter's AH-1G Bell Huey Cobras were flown. "Wired For Excitement" covers control line airplanes for stunt, scale, combat, speed, and carrier. "Adrift on the Air... the Fun of Free Flight Flying" introduces the aspect of free flight aeromodeling, with gliders, rubber, and fuel power. Visit the AMA's YouTube channel for hundreds of great videos - both historical and contemporary!
Buzz Aldrin has always been my favorite astronaut. He is the subject of my January 20th RF Cafe website logo. Aside from being the second human to set foot on the moon during the Apollo 11 mission, the West Point alum has a reputation as brilliant engineer, decorated fighter pilot, pull no punches opinions, and sharp witticism. No modern being has earned the right to be considered a role model than Dr. Aldrin (astronautics, MIT). Legend has it that Buzz Lightyear was named in honor of him. At 93 years old, he is still outspoken on matters of science and infinitely more lucid than many people decades his younger and even some presidents. It came as no surprise when this headline appeared last Friday: "Astronaut Buzz Aldrin gets married to 63-year-old girlfriend on 93rd birthday: 'As excited as eloping teens.'" In this age of compromised masculinity, it is good to have an authentic "man's man" (and evidently "woman's man") in our midst.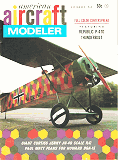 Not all old adages are still true. Waaaay back in the last century, even as recently as the late 1990's and early 2000's, that is to say before the advent of 2.4 GHz, spread spectrum radio systems, brushless motors, and LiPo batteries for model use, you could make the argument proclaimed here in this American Aircraft Modeler magazine editorial that "R/C models today are just too expensive." Yes, it might apply to giant scale, competition models, and jets, but when adjusted for inflation, the cost of an entry level radio controlled airplane is dirt cheap. You can but a ready-to-fly trainer with airplane, motor, battery, charger, and radio system for under $100 ($11.82 in 1968 money). With so much stuff being built by Uyghur slave labor and other virtual slave labor in China where hopeless people commit suicide by jumping off production plant buildings, combined with a trade policy that includes undercutting American product prices, modeling has never been easier to get into...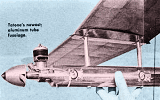 "She's a junk dealer's daughter, but she's given the air to Lord Rennell's heir. Explained sultry, blonde Nina Hobbs, 21...'He didn't pay me enough attention. He was much more interested in model airplanes.'" That line, quoted from the New York World-Telegram and The Sun story via Associated Press, was in this April 1962 edition of American Modeler magazine. I had to look up the phrase "give the air to" - it means to spurn, jilt, or reject one, especially a lover or romantic interest. Such a situation is not uncommon even today, and not just regarding model airplanes. The article includes a few other interesting items, along with plans for the Spearhead swept-wing free flight model...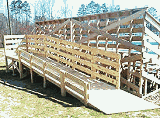 My daughter, Sally Cochran, owns and operate the Equine Kingdom Riding Academy on their farm in Greensboro, North Carolina. Sally is currently a Level 2 ARIA (American Riding Instructor's Association) instructor certified in Recreational Riding and Hunt Seat on the Flat, a member of AQHA, NCHJA, and PATH Int'l. She became a PATH (Professional Association of Therapeutic Horsemanship) certified instructor in November 2012. In order to fully implement a therapeutic riding program at Equine Kingdom, it was necessary to install a mounting platform and access ramp that can be used to assist people in wheelchairs and with other disabilities in mounting and dismounting horses. Commercially made platforms/ramps start at around $5,000, which is far too expensive for an operation like Equine Kingdom. So, I researched some of the government's handicap access requirements and designed the mounting platform and ramp shown below. As you might expect, there are no shortage of regulations. Ramp angle, safety rail height...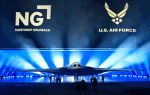 "The U.S. Air Force has a new stealth bomber: Meet the B-21 Raider. Officials with the U.S. Air Force and aerospace company Northrop Grumman unveiled the newest aircraft in the U.S. fleet late Friday in a ceremony webcast live online from the Edwards Air Force Base in California. The new bomber, built by Northrop Grumman, will be the backbone of the Air Force's bomber fleet once it enters service in a few years. It will also offer the first look at what are sure to be next-generation aerospace capabilities that will likely become commonplace in decades to come. 'The B-21 Raider is the first strategic bomber in more than three decades,' U.S. Secretary of Defense Lloyd J. Austin said during the unveiling ceremony. "It is a testament to America's enduring advantages in ingenuity and innovation. And it's proof of the Department's long-term commitment to building advanced capabilities that will fortify America's ability to deter aggression..."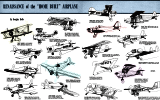 I was surprised when I saw the byline of Douglas Rolfe for this "Renaissance of the 'Home Built' Airplane" article in a 1961 issue of American Modeler magazine in the table of contents. The title kind of implies it is an article discussing the past and present of homebuilt airplanes, but actually it is a collection of line drawings of various homebuilts, with a short narrative. The format fits with Mr. Rolfe's usual contributions with his Auto Progress and Air Progress features. One of the things he points out, which I didn't know, is that in the early 1930's the CAA (predecessor to the FAA) regulated home builders out of the air by imposing difficult to comply with rules. If history is any indicator, it was probably lobbyists hired by aircraft manufacturers paying off politicians and bureaucrats to make life hard on homebuilders. Fortunately, people like EAA founder Paul Poberenzny helped reform the system to facilitate a rebirth of homebuilders...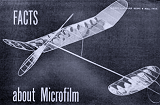 Microfilm-covered indoor models is one (of many) aspects of model airplane building and flying that I've always wanted to try, but never found the opportunity. You might be tempted to think this is the exclusive realm of white-haired old men, and admittedly it nearly is, but when you look at contest coverage in the modeling magazines, it is heartening to see a good showing of youngsters. For that matter, the same holds true for just about all forms of model aircraft these days except for radio controlled airplanes and helicopters. As recently as a couple decades ago, radio equipment was too expensive for many younger modelers to buy, so those who aspired to hobbies involving airborne craft had to settle for free flight and control line. Now, the department store shelves hold no control line or free flight models, but a nice selection of miniature R/C helis and airplanes. But I digress. This 1954 Model Airplanes News magazine article by John Zaic is a very comprehensive set of instructions on how to cover airframes with microfilm, a pyroxylin...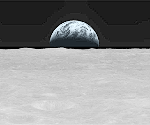 "South Korea's first-ever lunar orbiter Danuri has sent black-and-white photos of the Moon's surface and Earth, the national space centre said Tuesday. Danuri - a portmanteau of the Korean words for 'Moon' and 'enjoy' - was launched on a SpaceX rocket from the United States in August 2022 and entered lunar orbit last month. Its images - taken between December 24 and January 1 - show the lunar surface and Earth, and were shot from less than 120 kilometres (75 miles) over the Moon, the Korea Aerospace Research Institute (KARI) said in a statement. The images and videos will be 'used to select potential sites for a Moon landing in 2032,' it added. Danuri is circling the Moon every two hours, the centre said..."
Finding an article in a modern model airplane magazine like this "Carve the Italian Beretta 9mm Pistol" from a 1954 issue of Air Trails is highly unlikely. For that matters, seeing an advertisement like the Polk's Hobbies Antique Gun Reproductions on the same page has equally low odds. It's not that boys are no longer interested in guns, it's that publishers are afraid to promote them in any manner - even for historical education purposes. Our politicians promote policies that allow criminals to enter the country bringing drugs, weapons, and other contraband; judges set criminals free or lightly sentence them; schools teach kids that all guns by all people (including police and military) are bad, and then want to remove all guns from law-abiding citizens. As the old saying goes, then only the bad guys will have guns. The morons believe putting an orange cap...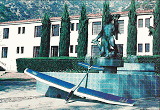 It was in this May 1975 issue of R/C Modeler magazine that I first saw the Airtronics Aquila sailplane (way too graceful to refer to it as merely a glider). Airtronics had not introduced a kit yet, but they were selling a canopy and hardware kit along with plans, so I ordered them and scratch built my first Aquila. I was 17 years old then. It was covered to look like the one in the photo above (which would become the kit box label photo). Not having lite ply for the fuselage, I used hard balsa. Somehow I eventually managed to destroy Aquila #1, but by that time a kit was available, so I bought one and also the ABS plastic fuselage. A standard Hi-Start was used for launching. A few years ago I built a 105% Aquila version simply because I wanted another Aquila and had never built a sailplane with a wingspan greater than 99". I am now in the process of building an 80% scale Aquila...

This website exists entirely on the support of its visitors by way of a small percentage earned with your Amazon.com purchases. It typically works out to less than $10 per month. That barley covers the domain registration and secure server fees. If you plan to buy items via Amazon.com, please begin your shopping session from the AirplanesAndRockets.com website so that I get credit for it. Doing so does not cost you anything extra. Thank you for your support.
This advertisement from the July 1972 issue of American Aircraft Modeler magazine might be the very first appearance for the recently incorporated "Tower Hobbies." Unlike other full-page and multiple-page ads that would soon follow, this early example is all text, with the exception of the now very recognizable company logo. According to the Tower Hobbies History webpage, "In 1971, founder Bruce Holecek started Tower Hobbies with little more than a passion for RC and $800 savings." It also says the TowerHobbies.com website was launched in 1995, making it one of the very earliest commercial World Wide Web (WWW) entities. The Wayback Machine on Archive.org made its first capture on December 29, 1996, almost exactly twenty-six years ago! Do you remember the spinning biplane? Animated GIF's were a big deal back in the day. A Top Flite P-40 Warhawk cost $32.50 at the time, which in today's hyper-inflation era works out to $230.92. That's an increase factor of about 7.1x (810%) in 26 years...
Every special interest organization has had the equivalent of a "Junior Problem" as reported in this 1968 issue of American Aircraft Modeler magazine. It refers to efforts required to attract younger participants - pre-teen and teenagers - into a particular activity, and then how to keep them interested once involved. A common scenario is where a kid becomes interested in model airplanes, boats, cars, etc., and sometimes becomes very involved - even to the point of competition - and then abandons the realm once he enters college, goes off to work, raises a family, or is distracted by more important priorities. Often, though, once the critical responsibilities lessen, he returns to his former interest, this time with more knowledge and money to more fully enjoy the hobby. Personally, I have retained my interest in all things aeronautical and astronautical throughout my six-plus decades. At times that involved only reading and maybe building a scale plastic model or attempting to introduce my kids...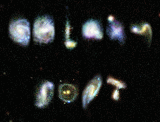 There is now a computer font available to astronomers: Galaxy. Well, not really, not yet, but at some point there probably will be. The rendition of "Welcome to Airplanes and Rockets! Founded 2006" shown to the left was generated automatically by a website called "My Galaxies." Thanks to thousands of volunteers worldwide that have participated in The Galaxy Zoo's project of classifying galaxies, a set of letter-shaped galaxies has been identified that can be used to write words like "airplanes and rockets." It appears that so far God (or the Big Bang - take your pick) did not create a full set of upper case letter-shaped galaxies. Some letters can be considered upper or lower case, like Cc Ii Jj Oo Pp Ss Uu Vv Ww Xx Zz. As you might expect, there are number-shaped galaxies as well (image right). After all, mathematics is the language of the universe. Judging by the shape of the numbers ""1" and "7," and the fact that MyGalaxies.co.uk domain is registered in the UK, I'm guessing the selected galaxy shapes are modeled after the European-style numeral set...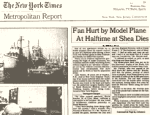 Here is a dark headline that come up in a search for model airplane news: "Fan Hurt by Model Plane At Halftime at Shea Dies; Disregard Charged." It is a New York Times newspaper story dated December 15, 1979. This is probably why you never see model airplanes being flown at public sports events anymore. I remember back in the middle 1970's a few guys from the Prince Georges Radio Control (PGRC) club to which I belonged at the time, did a demo show at a horse race track. From the article: "One of two spectators struck by model airplane flown by remote control as part of a halftime show during a New York Jets football game in Shea Stadium last Sunday has died of his injuries. There are no Federal regulations governing the flight of model airplanes, but witnesses said the model was being flown without regard to an "advisory circular" put out by the Federal Aviation Administration that recommends that such planes not be flown in heavily populated areas..."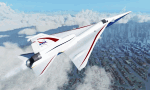 "NASA's quiet supersonic X-59 aircraft now has the jet engine that will power it in flight. Earlier this month, at Lockheed Martin's Skunk Works facility in Palmdale, California, the F414-GE-100 engine was installed. This marks a major milestone as the X-59 approaches the completion of its assembly. The F414-GE-100 engine from General Electric Aviation measures 13-foot-long and packs 22,000 pounds of propulsion energy and will power the X-59 as it flies at speeds up to Mach 1.4 and altitudes around 55,000 feet. 'The engine installation is the culmination of years of design and planning by the NASA, Lockheed Martin, and General Electric Aviation teams,' said Ray Castner, NASA's propulsion performance lead for the X-59. 'I am both impressed with and proud of this combined team..."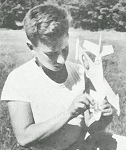 Jetex rocket motors were a big deal to my friends and me in the early 1970s, although they had been around a lot longer than that. In fact, this article in the March 1957 edition of American Modeler magazine was printed a year before I was born. The motors did not product a whole lot of thrust, so light weight was an absolute necessity. Once I finally got the buggers lit, they worked well and made a really cool hissing noise as the fuel burned. However, the amount of fuse wire provided never was enough to use up all the pellets in the pack because the darn things kept going out as it tried to enter the nozzle. No doubt it was my ineptness that caused the problem, but my excuse was only being a dumb kid. Now, I have a whole lot of fuel pellets but no engines for them...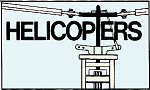 Even in 1975 when this "Helicopter Action" column appeared in American Aircraft Modeler magazine a very small percentage of R/C fliers had ever even tried their hands at helicopters, and an even smaller portion had been successful enough to keep at it. Gyroscopes for tail rotors were still in the prototype development stage, fixed pitch rotor blades were the norm. Control over the rotor disc was not by direct linkage to the blades, but to a rotor head assembly with a flybar. Only two servos were used - one for left/right and one for fore/aft. When setting up controls to the swashplate, accounting for gyroscopic precession was required since the desired output is 90° from the input in the direction of rotation. It was counterintuitive to the fledgling helicopter setter-upper, but like magic, it worked. It was during the setup of my DuBro TriStar helicopter that I first learned of the concept (I was 18 years old). I say all that to say this: Given the advanced state of the art in R/C helicopters today you might think...