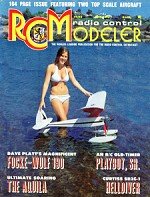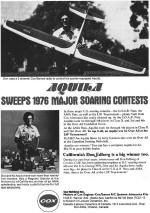 See my custom 2-meter Aquila Spirit -- kit-bashed from an Great Planes 2-meter Spirit glider.
Kit Availability
At this time there are two suppliers for Aquila balsa parts (aka short kits). One is a full-scale job by KitCutters, and the other is both full-scale and a ½-scale version by NewPrairieWoodworks.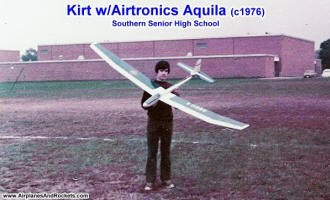 In May of 1975, RC Modeler magazine ran a feature on a design by Lee Renaud called the "Aquila." It had incredibly graceful lines and I knew I just had to build one. The positive Hoerner wingtips for some reason caught my attention. Airtronics had not yet produced a kit for it, so I ordered plans and built one from scratch. There was a hardware and canopy package available, though, so I purchased it. The picture to the right is of the Aquila I built off the plans. It was way back in 1976, the year I graduated from Southern Senior High School (in the background). A radio failure (still that same old 3-channel job) ended its life prematurely. Here is the 105% Aquila that I built from enlarged plans, and the full building instructions booklet, and here is my 85% Aquila glider.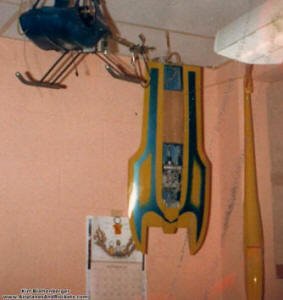 Prior to the Aquila, I had built and flown the Marks Model Windward glider (72" wingspan) and the Marks Models Windfree glider (99" wingspan). The Aquila construction was a real step up from the Windfree (which also has a 99" wingspan), which was extremely flimsy.
Fortunately, by then the kit was available from Airtronics, and my parents gave me one for Christmas that same year (1976?). It was very well done and the parts all fit very well. The Aquila was not a beginner's project by any means. What I liked best about the design was the removable, all-flying stabilizer (stabilator), and the lift spoilers. I bought a Cirrus 4-channel radio to use in it and built the optional wing spoilers. That brought a whole new dimension into RC sailplane flying.
I put so many flights on it that the fuselage got worn out (OK, so partially due to some hard landings). Some company began offering an ABS molded fuselage for the Aquila, so I bought one and breathed new life into the plane. The picture to the left shows the the ABS Aquila fuselage hanging in my barracks room at Robins AFB, Georgia. Also pictured in the photo is a DuBro Tri-Star helicopter and a Dumas Pride of Pay'n Pak hydroplane.
Quite a few flights were put on the Aquila while I was stationed at Robins AFB. My AFSC (Air Force Specialty Code) was 303x1, which is an Air Traffic Control Radar Repairman. My radar shop was part of the 5th Combat Communications Group. Our MPN-14 radar was a mobile unit composed of two towable trailers. I tell you this only because my trainer, Sgt. Chuck Powell, went with me on a couple of the flying sessions and towed the Aquila aloft a few times for me before I bought a Hi Start (money was pretty tight in those days). Warner Robins, Georgia, was not exactly a place you would expect to find a cliff to try slope flying from, but I actually found a place where it was possible to toss it from the top, and work the air a little before having to land about 50 feet below. The Aquila saw its final flight in a field on the edge of town. I let it drift too far downwind and did not have enough altitude to get it back to where I could see the ground for landing. I just let go of the sticks and hoped for the best. It wasn't a pretty sight. The ABS fuselage did survive, but both wings were destroyed; I'm guessing it cart wheeled based on the spread of the carnage.
Notice: There is a website, Aerosphere, that claims to be manufacturing most of Airtronics' original kits - including the Aquila. Kits are promised by the end of 2008 (I write this in January of 2009), but plans are available now for both the Aquila, Aquila XL, and the Aquila Grande.
In the summer of 2007, I bid for and won an Aquila kit from a gentleman on eBay. They are now selling for $200 or more. It was part of an effort to reacquire copies of many of the kits I had in my younger years. All the parts appear to be present, and everything is in absolutely excellent shape. Wingspan = 99.9".