A lot of wild and zany ideas for flying machines have been tried over the years. Most, if not all, of them could probably be coaxed into flying with modern computer-controlled stabilization and navigations systems that use fast-reacting powerplants, sensitive accelerometers and position sensors. For anything other than stable platforms, human pilots just could not provide control - at least on an extended basis and under adverse weather conditions. This "flying platform" by Hiller Helicopters is one such example.
"Flying Platform" Gets Three Engines
Photos and text by Howard Levy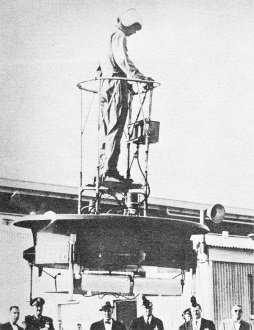 Hiller Helicopters received $500,831 contract from U. S. Army for the production of two prototypes of multi-engine "Flying Platforms." Similar in appearance to original "Platform" unveiled in 1955 (powered by two Nelson 2-cycle engines developing 44-hp each), new version is powered by three Nelsons. Design refinements developed after extensive testing of the twin-engine prototype. In the 3-engine job pilot stands higher over shroud. New airfoil sections appearing to be form of directional control have been added under the shroud.
The "Flying Platform," an extremely simple and compact aircraft, employs ducted fan principle of lift (shrouded props which gain lift by channeling air in combination with directing flow of air over lipped orifice). The operator relies on body balance and movement for inflight directional control.
Hiller feels that many variations of the "Flying Platform" are possible and that large "Platforms" for long range and small ones for short range missions could be successful. Field evaluation of the complete range of possibilities for the ducted fan principle of lift in tactical applications will be an important part of the Army test program.
Posted June 9, 2013