I bought a 1969 edition of the Sears, Roebuck & Co.'s Christmas Wish Book on eBay. It was the year I turned 11 years old, and was also the year of the Apollo 11 moon landing. Remembering how I eagerly awaited those pages filled with advertisements for model airplanes, boats, guns, Erector sets, and countless other things, I figured it might be nice to look through one again. Here is the
1967 Montgomery Ward Christmas Catalog
, the
1969 Montgomery Ward Christmas Catalog
and the
1969 Sears Christmas Wish Book
. Enjoy!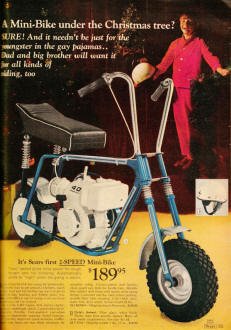 Here on page 251 of the Sears 1969 Christmas Wish Book is something I wanted in the worst way as a kid, but my parents could not afford to buy me - a mini-bike. Literally every other boy in my neighborhood who wanted on had ones. As with my second-hand bicycle, I would have settled for any mini-bike. Understandably, the other kids' parents warned them not to let anyone else ride their mini-bikes because they were expensive commodities in the day. The woods behind our house were wiled with that wonderful 2-cycle lawnmower engine sound all afternoon after school and on weekends, but alas, I was not to join in on the reindeer games.
Occasionally, someone would give me a ride on the back of his. Once, a guy promised to let me ride his mini-bike if I helped him deliver papers for a week. I did so, and after a week we went out to a field where I was to get to ride. He said he was going to take a short ride and then come back to get me. I sat there for about an hour before realizing I'd been shafted. If he hadn't been a lot bigger than me, I'd have knocked the crap out of him.
Use the U.S. Bureau of Labor Statistics' inflation calculator to see what items cost in today's dollars. That $189.95, 2-speed mini-bike would cost $1,139.82 in 2011 money.
Posted February 20, 2011