SIG Manufacturing, forever located in Montezuma, Iowa, is among the ranks of a dwindling number of America's original model airplane kit and accessories makers and distributors. Sig's catalog from the early 1970s was the first hobby catalog I ever owned. You can bet I read it cover-to-cover many times, wishing to own everything on its pages. In case you don't know, the name SIG is a shortened version of Sigafoose, which is the last name of the company founders, Glen and Hazel Sigafoose.
According to a press release, "In February 2011 SIG Manufacturing Co., Inc. was purchased by Herb Rizzo (President), David Martin (VP and General Manager), and Ron Petterec (VP). All three gentlemen are successful businessmen and lifelong modelers providing the ideal base for SIG to continue offering quality and value to model airplane pilots around the world." I have continued to order 25% nitro fuel and building supplies from them because their prices are amazingly good on many things. Check SIG's website; you might be surprised.
SIG Manufacturing Company Advertisement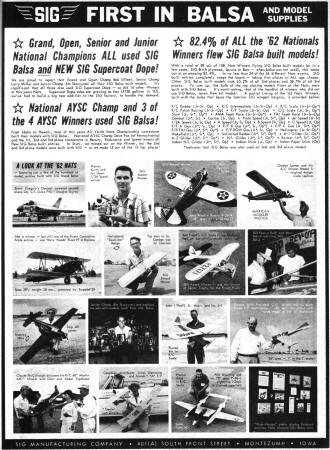 SIG First in Balsa and Model Supplies
Grand, Open, Senior and Junior National Champions all used SIG Balsa and new SIG Supercoat Dope!
We are proud to report that Grand and Open Champ Bob Sifleet, Senior Champ Larry Miller and Junior Champ Jim Skarzynski all flew SIG Balsa built models. It's significant that all three also used SIG Supercoat Dope - as did 16 other Winners at this years Nats. Supercoat Dope sales are growing so fast (2750 gallons in '62), we've had to build a big new addition to the SIG factory, to handle the demand.
National AYSC Champ and 3 of the 4 AYSC Winners used SIG Balsa!
From Idaho to Hawaii, most of this years Air Youth State Championship contestants built their models with SIG Balsa. National AYSC Champ Dave Fox (of Pennsylvania) and the 1st, 2nd and 3rd place contestants in Beauty, Endurance and Speed events all flew SIG Balsa built entries. In Stunt, we missed out on the Winner, but the 2nd and 3rd place models were built with SIG - so we made 12 out of the 13 top places!
82.4% of all the '62 Nationals Winners flew SIG Balsa built models!
With a total of 89 out of 108 Nats Winners flying SIG Balsa built models (or in a few cases, SIG Birch plywood, Spruce or Bass - when balsa was not used), this works out at an amazing 82.4%. In no less than 24 of the 36 different Nats events SIG built entries completely swept the board - taking first places in all age classes. Other SIG Balsa built models took 65.2% of all 2nd places and 58.7% of all 3rd places. To sum up, the bulk of the top placing models flown at the Nats were built with SIG Balsa. It's worth noting, that of the handful of winners who did not use SIG Balsa, seven flew kit models. A partial listing of the '62 Nats Winners, built with the balsa that bears the familiar SIG winged insignia, is provided below:
R/C Rudder (Jr-Sr, Op) • R/C Intermediate (Jr-Sr-Op) • R/C Scale (Jr-sr-Op*) R/C Pylon Racing (Jr-sr-Op) • F/F Scale (Jr-Sr, Op) • C/L Scale (Jr, Sr, Op*) Stunt (Jr, Sr*, Op*) • AMA Team Race (Jr-Sr-Op*) • FAI Team Race (Jr-Sr-Op) Combat (Jr*, Sr) • Carrier (Sr, Op) • Proto Speed (Jr, Sr*, Op) • Jet Speed (Jr-Sr) 1/2A Speed (Jr, sr, Op) • A Speed (Jr, Sr, Op) .B Speed (Sr, Op) • C Speed (Jr, Op) F/F A Gas (Jr*, Sr , Op) • F/F B Gas (Jr*, Sr , Op*) • F/F C Gas (Jr Sr* Op*) F/F FAI Gas (Jr*, Sr*, Op*) • FF ROW Gas (Jr*, Sr , Op) • Helicopter (Jr-Sr-Op*) Wakefield (Jr*, Sr*, Op) • Unlimited Rubber (Jr*, Sr*,Op*) • A-1 Gliderr (Sr , Op*) A-2 Gilder (Jr*, Sr*, ,Op*) • H/L Glider (Jr*, Sr*, Op*) • Rocket (Jr*, Sr*, Op*) Indoor H/L Gilder (Jr* , Sr*, Op) • Indoor Stick (Jr, Op) • Indoor Paper Stick (Op)
*Indicates that SIG Balsa was also used on 2nd and 3rd place models
SIG Manufacturing Company 401 (A) South Front Street Montezuma Iowa
Posted May 26, 2018






(Title)
(Content)

Kirt Blattenberger

Carpe Diem! (Seize the Day!)

Even during the busiest times of my life I have endeavored to maintain some form of model building activity. This site has been created to help me chronicle my journey through a lifelong involvement in model aviation, which all began in Mayo, MD ...

All trademarks, copyrights, patents, and other rights of ownership to images and text used on the Airplanes and Rockets website are hereby acknowledged.

Webmaster:

BSEE - KB3UON

Family Websites: