Jetex rocket motors were a big deal to my friends and me in the early 1970s, although they had been around a lot longer than that. In fact, this article in the March 1957 edition of American Modeler magazine was printed a year before I was born. The motors did not product a whole lot of thrust, so light weight was an absolute necessity. Once I finally got the buggers lit, they worked well and made a really cool hissing noise as the fuel burned. However, the amount of fuse wire provided never was enough to use up all the pellets in the pack because the darn things kept going out as it tried to enter the nozzle. No doubt it was my ineptness that caused the problem, but my excuse was only being a dumb kid.
Now, I have a whole lot of fuel pellets but no engines for them. If you are a Jetex man, please check my Jetex fuel pellets page.
Jetex-Powered "VTO" is Third in Series of Air Adventurers Models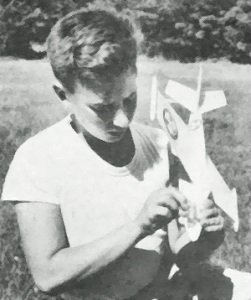 Model #3 in the easy-to-build, great-fun-to-fly series of Air Adventurers Club model aircraft designs is this unusual "X-tail" jet fighter-like craft. Officially, it is designated Series A, Mach 3. For power it uses a real jet engine, the Jetex "35" or "50" or an equivalent solid fuel propulsion plant. Tail fins which give the plane a rakish appearance are very easy to make and mount. All you do is cut out 4 rudder-fins. Cement two together at right angles, do same with remaining two - let the cement dry completely. Then each "V" is cemented to the fuselage rear to form an "X." Note that modeling clay is called for to balance the model for a smooth, even glide. Use coupon below (or copy) to join AAC.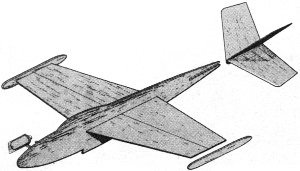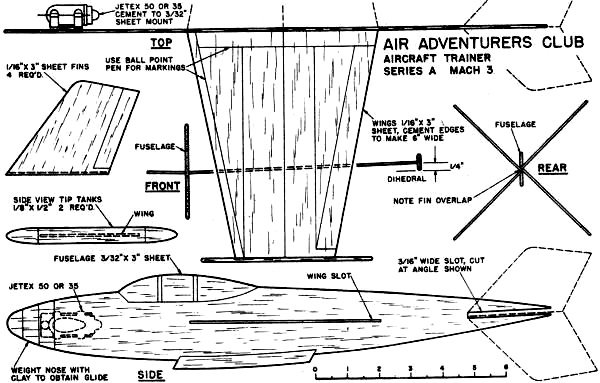 <click for larger version>
Notice:
The AMA Plans Service offers a full-size version of many of the plans show here at a very reasonable cost. They will scale the plans any size for you. It is always best to buy printed plans because my scanner versions often have distortions that can cause parts to fit poorly. Purchasing plans also help to support the operation of the Academy of Model Aeronautics - the #1 advocate for model aviation throughout the world. If the AMA no longer has this plan on file, I will be glad to send you my higher resolution version.
Posted March 18, 2012