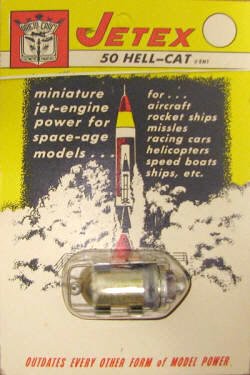 My experience with a Jetex 50 Hell-Cat motor was somewhat limited. I had one or two, and would strap them to the cheap balsa gliders from Guillows. The problem was with the fuse, as I recall. The way it worked was to insert the fuel pellets into the motor body, then insert a thin wire that was coated with fuse material through the nozzle and coil it to lay against the fuel. Lighting the fuse was no problem, but getting it to keep burning as it passes through the tiny nozzle hole was almost impossible. The paltry amount of fuse wire that was provided with the motor and spare fuel was never enough to get the dang thing to work. After all the fuse was gone but most of the fuel pellets were left, I'd load in full pellets, then crush others to fill the nozzle end so that it was next to the hole. Then, I'd hold a cigarette lighter up to the nozzle until the fuel lit. I'm lucky to have all my fingers.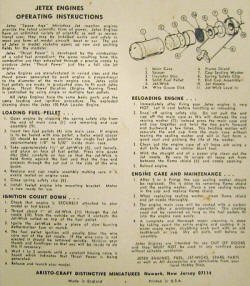 Once the motor finally lit, there was a cool hiss and a slight stream of smoke that shot out of the nozzle. Amazingly, the glider flew fairly well.
Jetex motors, fuel, and accessories were imported from England and distributed in the U.S. by Aristo-Craft Distinctive Miniatures, in Newark, New Jersey.
A couple years ago while working on re-acquiring some of my boyhood models and gizmos, I managed to get a Jetex 50 HELL-CAT #EN1, and a Jetex Red Spot 100 JETMASTER motor. Both have their original packaging and have not been run. I'll post a couple pictures soon. In the mean time, take a trip over to the Jetex.org website to see all the good stuff they have there , including some information on the new Rapier motors (these are more like miniature Estes rocket motors). You might also be interested in the Jetex Propulsion Laboratory (JPL).

Instruction Sheet for the Jetex Jetmaster.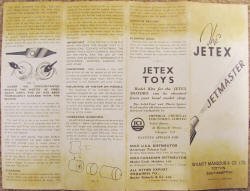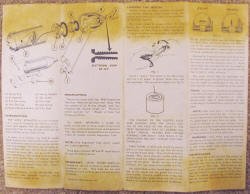 Jetex.org Website
Jetex "35" Fuel Pellet Set

Jetex "35" Fuel Pellet Instructions

Jetex "35" Fuel Pellet Box Side

Jetex "35" Fuel Pellet Box End

---

Jetex "200" Fuel Pellet Set

Jetex "200" Fuel Pellet Box Side

Jetex "200" Fuel Pellet Box End

---

Jetex "350" Fuel Pellet Set

Jetex "350" Fuel Pellet Box Side

Jetex "350" Fuel Pellet Box End

---

Jetex "600" Fuel Pellet Set

Jetex "600" Fuel Pellet Instructions

---

Jetex PAA Loader 150

Jetex rocket engines were quite popular with model airplane, boat, and car builders through the early 1970s, at which point the fuel supplies began to disappear. Most Internet sources posit that Imperial Chemicals Industries (ICI) ceased making the fuel pellets due to a combination of liability and regulation issues. ICI, based in Scotland, manufactured the Jetex fuel pellets* from a measured blend of guanidine nitrate, 2,4-dinitroresorcinol, potassium nitrate (aka saltpeter), iron oxide, kaolin, and asbestos. Today, obtaining the required chemicals, or even doing an Internet search for them (as I just did), will probably get you a big red flag in the Department of Homeland Security's database. There are probably a couple agents on the way to my house as I write this.
Articles About Engines and Motors for Model Airplanes, Boats, and Cars: