Here is an interesting bit of history. According to this article from a 1952 issue of Air Trails magazine, the reason British model engine designers switched from ignition type engines to diesel was due to a shortage of copper element wire and other components brought about by World War II. Diesels are still very popular in Europe both for model airplanes and full-size automobiles. The Alternative Fuels Data Center claims that diesel fuel has a 13% greater energy density that gasoline, which jives with many other independent sources, some of which say overall efficiency is up to 20% greater. Diesel just has never really "caught on" here in the U.S. for some reason - maybe its the stinky exhaust. One nice aspect of diesel model airplane engines is that butyrate dope (i.e., "fuelproof") is typically not needed. Another is that the greater low-end torque of the diesel permits using a larger, more scale-like propeller. Oh yeah, and with a diesel you don't need to carry a starter battery and spare glow plugs. The biggest down side to diesel fuel (other than lack of affordable sources for model grade fuel) is that the high volatility of the ether require careful storage in light-proof, tightly sealed container.
Mills "Brothers" ½A Diesel Engines from England
Meet a couple of husky fellows from England: new diesels pack real power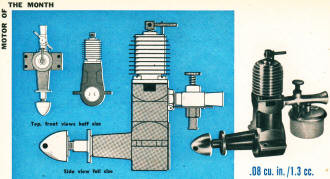 Since the end of the last war model engines have taken a turn to glow plug and smaller sizes in the United States, with Half-A's becoming quite popular. During this same time the model world in Europe and England has been developing small diesel engines. This trend started during the war when copper wire and other necessary parts for ignition systems were not available. After the war the model industries of the continent and England picked up the diesel and have produced small engines equivalent to the very popular American Half-A.
Until recently most diesels were considered to be slow-speed engines; but several short-stroke, high-speed diesels have appeared in England. The Mills .75 and 1.3 cc, engines fall in the medium speed class and feature easy starting and long engine life.
In general, diesel engines are heavier for their power than a glow plug engine. However, there are many applications where the diesel has definite advantages. Control line scale and sport flyers attempting to produce good looking models have had a terrific problem with paint ever since the introduction of glow fuel:
Diesel engines run on a mixture of oil and ether which, has no effect on the old nitrate dope. This means a model can be surfaced with talc and dope and finished with colored dope, then powered with a small diesel engine to avoid the necessity of ruining a good finish with fuel proofer.
Free flight modelers would also be interested in these small diesels since they develop high torque and will turn a large propeller at moderate speeds. The tests on these engines show a 9" fuel level test without knocking or great loss of power, indicating that they will run steady enough to perform the full A.M.A. stunt maneuvers without difficulty.
Both the .75 and 1.3 cc. Mills engines have similar internal construction. Information available on the 1.3 cc. will serve as an example. The cylinder is a separate sleeve machined from steel with a nitrogen-hardened surface. The piston is made of tool steel, hardened and ground. This combination of piston and cylinder materials, along with great accuracy in fitting, makes the engine capable of running at high speed under the high compression encountered in a diesel without the rapid wear experienced in so many early diesel engines.
An aluminum cylinder head covers the top and sides of the cylinder around the combustion area above the ports. This keeps the cylinder operating at an even temperature and overcomes any difficulty caused by unequal expansion of the piston and cylinder. A small adjusting screw in the cylinder head contacts the contra piston in the top of the cylinder to vary the compression ratio. The cylinder assembly is held to the base by four screws. The crankshaft is assembled through the back of the base casting similar to most American engines. The shaft is hardened and ground on the main bearing and crankpin bearing surfaces.
A special carburetor is featured on the larger engine. The center of the carburetor has a shaft running through its center with a drilled hole similar to a stop-cock or shut-off valve. The needle valve is built in the center of the rotating valve with a construction similar to that used on the McCoy Red Head racing engine. Turning this throttle shaft partly closed reduces the amount of air entering the carburetor and also cuts off the amount of air and fuel mixture entering the engine. This arrangement provides a more constant air-fuel mixture than a simple choke on throttle. The throttle is recommended for use in free flight or radio control models and can also be used as an engine speed control device in con-trol line flying.
Successful operation of model diesel engines depends greatly on the fuel employed. The manufacturer recommends a mixture of one part #40 engine oil, one part diesel truck fuel, and one part ether. Articles printed in English publications, with regard to diesel engines, recommend a fuel using 10 to 20 percent #70 lubricating oil with approximately equal parts of diesel fuel and ether. Experimenting with these various mixtures showed that heavy oil caused difficulty in starting the small engines by forming a film on the cylinder wall and top of the piston.
Best results were obtained with one part #20 motor oil mixed with two parts ether. This is an old formula worked out for the Drone diesel engines when they came on the market. The light oil blows out of the combustion Chamber and does not build up in the base as fast as heavy mixtures. The engine is also less sensitive to changes in rate of fuel flow when using this mixture.
After several hours of experimenting some important rules were developed that eliminated starting difficulties. The needle valve and compression setting must be quite accurate and should not be altered due to failure to start. The compression setting can be left at the point where the engine develops maximum speed and runs steady. The needle valve setting for easy starting can be best determined while the engine is running. Adjust the mixture for maximum engine speed, then open until a slight decrease in rpm is noticed. After these adjustments have been determined they can be left pre-set for starting and flying.
When the engine has not been operated for several days a residue of heavy, oil collects in the carburetor and inside the engine. To start the engine in this condition, choke twice and flip until it kicks over or starts. Do not choke again until the popping stops completely. If the engine fails to start, choke once and continue to flip. If the engine has been running recently and is still slightly warm, one choke and no more should be used.
With a cold engine several bursts of power will occur without starting. This is due to oil in the carburetor and inside the engine, so do not change the compression setting or needle valve adjustment. After three or four bursts the engine will catch and then continue to run.
When the engine has been running and is quite hot, it is nearly impossible to start. Attempts to do so usually result in overchoking and the heat evaporates all the excess ether, leaving only oil inside the engine. This condition can be eliminated only by thoroughly rinsing out the engine. To avoid this experience, allow the engine to cool to the point where the hands can be held on the engine very comfortably before trying to start it. Quick cooling can be effected by pumping fuel on the cylinder fins; be careful not to get any in the exhaust ports.
A stubborn engine is usually a result of too much oil in the base or the combustion chamber. If the base is clear, the engine will give a long burst of power and die out slowly if it fails to start.
When the base is filled with oil the engine will give a very short burst and stop abruptly when the excess oil blows up into the combustion chamber. When this occurs, rinse out the base with fuel and pour out through the bypass and exhaust ports and start the engine without choking.
This starting procedure and the various causes of trouble have been described in such careful detail for the benefit of American modelers who have had no previous experience with diesel engines.
Following closely the procedure outlined above for starting shows that the Mills diesels will start with the same ease as the average glow plug engine. Mills engines are available in this country through Polk's Model Craft Hobbies.
Engine Data
Mills .75 cc.
Design Data. Bore: .33. Stroke: .52. Stroke bore ratio: 1.58. Displacement: .75 cc. (.045 cu. in.). Class: Half-A.
Performance. Weight: 1 3/4 oz. Propellers: 8 1/2/3 wide blade wood - 6,700 rpm: 7/4 wide blade wood - 8,500 rpm; 7/4 plastic - 8,200 rpm; 6/4 wide blade wood - 11,800 rpm: 6/3 wood - 12,000 rpm. Fuel: Mills Diesel Fuel. Manufacturer recommends 1 part #40 oil, 1 part diesel truck fuel, 1 part ether. Test run on 1 part #20 oil, 2 parts ether. Good results on Drone Fuel. Fuel level test: 8 1/2" at 8,500 rpm.
Mills 1.3 cc. (Mark II)
Design Data. Bore: 13/32 in. Stroke: 5/8 in. Stroke bore ratio: 1.54. Displacement: 1.3 cc. (.08 cu. in.) Class: A.
Performance. Weight: 3 1/2 oz. Propellers: 9/6 wide blade wood - 5,900 rpm: 9/6 narrow blade wood - 6,700 rpm; 8/6 narrow blade wood - 8,200 rpm, 8/3 1/2 wide blade wood - 9,000 rpm: 7/6 wide blade wood - 9,100 rpm; 7/4 plastic impregnated wood - 11,000 rpm. Fuel: same as above. Fuel level test: 9" at 8,200 rpm.
Special Features: Throttle carburetor. Nitrous steel liner and hard steel piston give excellent wear and also maintain close fit for good compression and easy starting.
Articles About Engines and Motors for Model Airplanes, Boats, and Cars:
Posted October 7, 2017