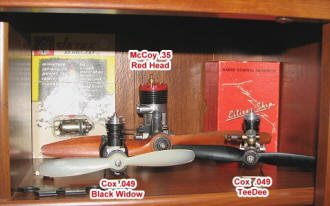 This McCoy .35 C/L engine is like the one owned by my airplane flying buddy, Jerry Flynn. He had it given to him, along with a lot of other great engines and kits, by an old guy who was getting out of the hobby. This was back in the mid-1970s, so a lot of it was only 20 or so years old at the time.
I purchased two McCoy .35 Red Heads on eBay in the summer of 2007, and one of them is proudly part of my personal nostalgia collection (above photo). The other was sold to a friend who needed one for a vintage control line model he built.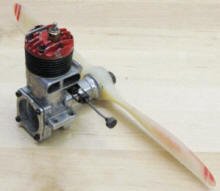 See the Duro-Matic McCoy Red Head Advertisement in the November 1946 issue of Air Trails magazine.
Articles About Engines and Motors for Model Airplanes, Boats, and Cars:
Posted December 14, 2012