Kirt Blattenberger
Carpe Diem!
(Seize the Day!)

Even during the busiest times of my life I have endeavored to maintain some form of model building activity. This site has been created to help me chronicle my journey through a lifelong involvement in model aviation, which all began in Mayo, MD ...

Webmaster:
Kirt Blattenberger
BSEE - KB3UON
Family Websites:
RF Cafe | Equine Kingdom

All trademarks, copyrights, patents, and other rights of ownership to images and text used on the Airplanes and Rockets website are hereby acknowledged.
McCoy .35 Red Head C/L Engine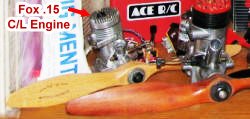 This McCoy .35 C/L engine is like the one owned by my airplane flying buddy, Jerry Flynn. He had it given to him, along with a lot of other great engines and kits, by an old guy who was getting out of the hobby. This was back in the mid-1970s, so a lot of it was only 20 or so years old at the time.

I purchased two McCoy .35 Red Heads on eBay in the summer of 2007, and one of them is proudly part of my personal nostalgia collection (above photo).