If you didn't know that the famous McCoy Red Head engine was made by a firm named Duro-Matic Products Company, you're not alone. Duro-Matic made a lot of models and accessories in its early days, including tethered model cars, engines for airplanes, boats and cars. According to an article on The Internet Craftsmanship Museum website: "Starting in the late 1930's, Dick [McCoy] produced about 35 race car engines on his own before having them made by Duro-Matic Products Co. in Hollywood starting in 1945. From 1953 to 1956 the engines were made by McCoy Products Co. in Culver City before turning production over to Testors in April, 1956." Accordingly, this advertisement in a 1946 issue of Air Trails magazine appeared not long after Duro-Matic Products Co. began making the McCoy engines. I still own a McCoy .35 Red Head engine.
Duro-Matic McCoy Red Head Advertisement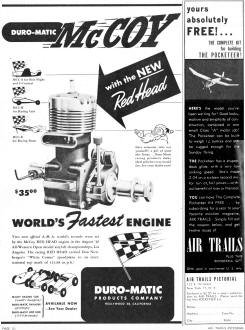 MCC-A for Free Flight and U-Control
MCC-R for Racing Cars
MCC-R for Racing Boats
$35.00
with the NEW Red Head
Give someone (why not yourself?) a gift of speed this Xmas ... Duro-Matic racing products make ideal gifts for every model fan. See your dealer now!
World's Fastest Engine
Two new official A. M. A. world's records were set by the McCoy Red Head engine in the August' 46 All-Western Open model aircraft championships, Los Angeles. The racing Red Head carried Don Newberger's "White Comet" speedplane to an international top mark of 123.88 m.p.h.!
McCoy Racing Car (world's champion)
Duro-Matic Invader
(prototype)
Duro-Matic Hot Rod
(A-V8 prototype)
Available Now
- See Your Dealer
Duro-Matic
Products Company
Hollywood 38, California
Articles About Engines and Motors for Model Airplanes, Boats, and Cars:
Posted July 3, 2021