Outboard motors for model boats have been available for a long time. Advertisements in modeling magazines from the 1950s (as far back as my collection goes) has plenty of them. Ailyn's Sea Fury outboard motor and the Fuji outboard motors are just a couple examples for which I have copies of the ads. I don't know if any are still manufactured today, but if you hang around eBay long enough, you will find them up for auction. As of this writing, there is a Fuji .15 outboard motor up for bid. It appears to me in remarkably good condition.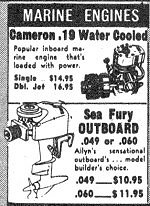 These two advertisements were scanned from 1950s vintage American Modeler magazines, offered by America's Hobby Center (no longer in business) in New York City.
According to the U.S. Bureau of Labor Statistics' inflation calculator the $29.95 price in 1957 would be $313.59 in 2011 money. These vintage motors usually sell at about the inflation-adjusted price, so when you see them go for a couple hundred dollars, it really is not so much in today's money.
To the right is a website I found K&O Toy Outboards. The owner appears to have quite an impressive collection of the motors.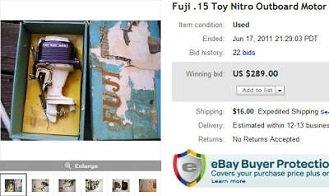 Posted June 11,2011
Articles About Engines and Motors for Model Airplanes, Boats, and Cars: