If Bill Bell was 35 years old when this plans sheet for his "Javelin" free flight airplane was published in American Modeler in 1962, that makes him a ripe old age of 88 today. He may well still be flying models. There was no article accompanying the plans; it appeared kind of randomly on a page within an article titled, "How to Add Radio Control to Your Scale Model Auto." The wingspan appears to be around 64", with a Cox .15 TeeDee engine for power.
Bill Bell's Nats Winning "Javelin" F.A.I. Free Flight Plans
One of the best F.A.I. models now flying, is this slim design by Bill Bell (AMA 19977 - "Ocean City Modeleers"), Delray Beach, Florida. Ship won open F.A.I. F/F at '61 Nationals with 14 min. 24 sec. total. Bill is 35 and has been building model planes for the last 10 years.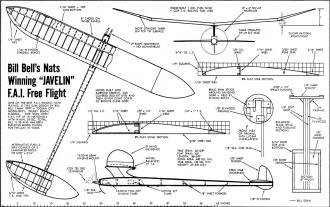 Notice:
The AMA Plans Service offers a full-size version of many of the plans show here at a very reasonable cost. They will scale the plans any size for you. It is always best to buy printed plans because my scanner versions often have distortions that can cause parts to fit poorly. Purchasing plans also help to support the operation of the Academy of Model Aeronautics - the #1 advocate for model aviation throughout the world. If the AMA no longer has this plan on file, I will be glad to send you my higher resolution version.
Try my Scale Calculator for Model Airplane Plans.
Posted June 27, 2015