This particular page is from the back cover of the September 1957 issue of
American Modeler
magazine. Herkimer Tools & Model Works (OK Cub engines) is no longer in operation. All copyrights (if any) are hereby acknowledged.
Use the U.S. Bureau of Labor Statistics'
inflation calculator
to see what items cost in today's dollars. For instance, that $4.95 "Cub .049B" would be $38.17 in 2010 money.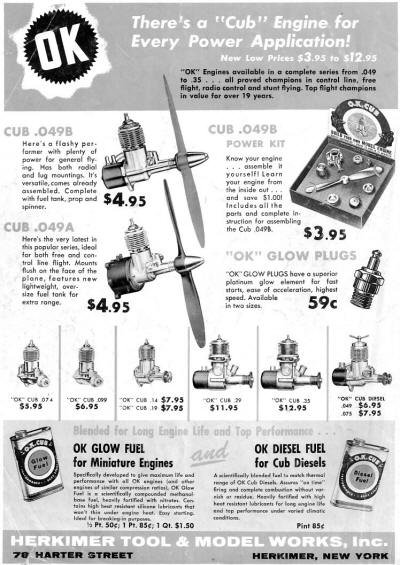 Vintage Model Aircraft Magazine Advertisements:
Ace Radio Control, May 1957 AM
Ace Radio Control, Jan 1970 AAM
America's Hobby Center, Jan 1962 AM
America's Hobby Center, Sep 1970 AAM
Berkeley Models, Dec 1954 AT
Berkeley Models, Jul 1957 AM
Bonner Digimite
Carl Goldberg (1967)
Carl Goldberg (1970)
Citizen Ship Radio Corp.
Cox Thimble Drome .049
deBolt Model Engineering
Du-Bro Products, Nov 1970 AAM
K&B Fokker D.7 Biplane
EK Products, Nov 1970 AAM

Enterprise Model Aircraft
Eureka Importing Co.
Fox Fuels
, Jan 1962
Fox Manufacturing
, Apr 1962
Guillow's, Dec 1969 AAM
Guillow's
, March 1955 AT
Hawk Model Company
Heathkit, Sep, 1970
Herkimer (OK) Tools & Model Works
Hobby People
Jetco
Lafayette Radio
Min-X
Model Rectifier Corporation (MRC)
Nick Ziroli
Pan American World Airways Ad (PAA-Load)
Polks Hobbies
Revell
Royal Products
Scientific Models
Sig Manufacturing
Sterling Models, Dec 1954 AT
Sterling Fokker D-7
, Aug 1968 AAM
Sterling Models
, Sept 1970 AAM
Sterling Models
, Nov 1970 AAM
Tatone Products
Thimble Drome
Top Flite, Dec 1969 AAM
United States Rubber Company
(1957 MA)
United States Rubber Company
(1955 AT)
World Engines
, Mar 1973