This advertisement for the Aluminum Casalaire control line (C/L) model airplane appeared in the November 1946 issue of Air Trails magazine. The Casalaire was designed and marketed by Louis Casale of the AMA (Academy of Model Areonautics) Nationals fame. Its fuselage is made of stamped aluminum components that are held together with rivets which were set with a pair of pliers - no air hammer or bucking bar required. Wings and empennage are built from standard balsa and plywood parts. With a wingspan of 45" and a B- or C-size engine, it is a fairly large model. For more background information and magazine appearances of the Casalaire, look about half-way down this page on the Collect Air website. Another advertisement for the Casalaire shown at Collect Air includes a twin-cylinder Viking 65 engine that came with a 3-blade, variable-pitch propeller!
The Casalaire was priced at $18.50 in 1946, which in 2019 dollars is about $223 (somewhat pricey). The Viking 65 cost $26.50 at the time, equivalent to $319 now (cheap).
The Aluminum Casalaire Advertisement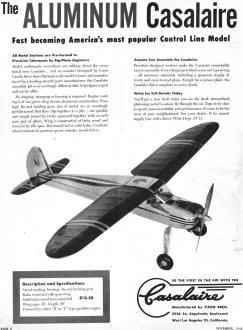 Fast becoming America's most popular Control Line Model
All Metal Sections are Pre-formed to Precision Tolerances by Big-Plane Engineers
Model enthusiasts everywhere are talking about the sensational new Casalaire ... and no wonder! Designed by Louis Casale, three times National scale model winner, and manufactured by a leading aircraft parts manufacturer, the Casalaire assembly job is so excitingly different that it intrigues expert and novice alike.
No shaping, stamping or forming is required. Engine cowling is of one-piece deep drawn aluminum construction. Fuselage, fin and landing gear, also of metal, are so exactingly prefabricated that they slip together in a jiffy ... are quickly and simply joined by rivets squeezed together with an ordinary pair of pliers. Wing is constructed of balsa wood and covered by silk span. Horizontal tail is solid balsa. Casalaire wheel consists of puncture-proof, tubular, treaded tires.
Anyone Can Assemble the Casalaire
Precision designed sections make the Casalaire remarkably easy to assemble. Everything's provided so you can't go wrong ... all necessary materials, including a generous supply of rivets, and easy-to-read plans. Except for a power plant, the Casalaire Kit is complete in every detail.
Write for full Details Today
You'll get a new thrill when you see the sleek, streamlined, glistening metal Casalaire fly through the air. Tops in its class in speed, maneuverability and performance, it's sure to be the envy of your neighborhood. See your dealer. If he cannot supply you, order direct. Write Dept. AT-11.
Description and Specifications
Metal cowling, fuselage, fin and landing gear
Balsa wood and silk span wing
Solid balsa wood horizontal tail
Wing span, 45"; length, 30" .
Powered by either "R" or "C" type gasoline engine
$18.50
Be The First In The Air With The
Casalaire
Manufactured by Tison Bros.
2226 So. Sepulveda Boulevard
West Los Angeles 25, California
Posted September 21, 2019