Website visitor Mark Radcliff (yes, THE Mark Radcliff, of 75-77-79-81 USA F3a RC Aerobatic Team fame) wrote to request that I scan the article for Steve Wooley's control line Argus, which, appeared in the August 1961 American Modeler. The Argus was the star of the 1960 world championships in Hungary. Note the unique wing construction where rather than using full ribs, upper and lower outlines are used that sit over and under the beefy solid wing spar. The entire article is very short.
The ARGUS in Hungary
The Hungarians called this U-control stunt THE MOST BEAUTIFUL PLANE IN THE WORLD!
From its name to the tip of its tail wheel "Argus" (Greek God of the Sky) represents the author's concept of a functional design combined with pleasing lines to help garner those appearance points so important in present-day contest flying. Argus was acclaimed as the "most beautifully designed and finished" model at the World Champion-ships in Hungary by participating contestants and all foreign publications. Argus is a precision aerobatic model that has failed only twice since 1958 to bring home the hardware. Probably one of the smallest stunt designs flying today, Argus sports only 500 square inches of wing area and an all-up weight of 39 ounces. So a Fox 29 has no trouble at all in pulling it around, even in windy weather. A torsion bar landing gear guarantees perfect landings every time.
Construction is not as simple as a D-tube wing, but once tried, you will probably not want to use any other method, due to the accurate and fast construction routine. A word about weight - build your model as light as you can, and don't worry about it being too light. Some months ago an Argus was finished that tipped the scales at only 34 ounces. This was one of the models that went to Budapest to participate in the 1960 International Control Line Meet. Light weight is the secret to good "stuntability," but a 41 to 43 ounce model will fly quite well, provided it is properly balanced. Use as light a grade of balsa as you can. I prefer Sig Contest grade, and with gratifying results.
Begin construction by cutting fuselage sides from 3/16" sheet balsa. Also cut out 1/16" plywood doublers, including all openings shown on the plan. Accurately! Assemble the doublers and sides carefully, matching up the edges as best you can. When the cement is dry, cut through all spar and other wing member openings in the balsa sheet sides. The 3/8" x 1/2" hard maple motor mounts are cemented and bolted on. Lay down the fuselage sides for the time being, as the wing must be started now.
Select light, firm 14"x2"x48" balsa for the spar. If 48" lengths are not available, a splice as shown on the plan will be necessary. Do the cutting of the tapers as accurately as you can, as the ribs will not fit too well otherwise. Add the 1/16" plywood doublers and rein-forcements shown, then allow the cement 24 hours drying time so that the assembled parts do not slip out of place in later handling. This is the time for those "simple" parts that still need to be made. The rudder, stab, elevators and flaps are blanked out, cut and shaped. Sand to a smooth overall finish to minimize final sanding, when you will be eager to get the paint job done. The fuselage formers, bellcrank mount and ribs are cut out and stacked for later use. Bend the landing gear struts as shown; 1/8" steel wire, is needed - be sure that you bend a left and a right unit so that you won't be stymied later with "two left feet."
The bellcrank mount is inserted and cemented in the spar center. Be sure the lead out slot is cut into the spar. If not, do it now, as per the spar plan. Neatly cement on 1/8"x1/2" hard balsa cap strips (top and bottom), and there is your finished "I" beam spar.
Additional construction instructions appear on Group Plan #861 from Hobby Helpers.

Notice:
The AMA Plans Service offers a full-size version of many of the plans show here at a very reasonable cost. They will scale the plans any size for you. It is always best to buy printed plans because my scanner versions often have distortions that can cause parts to fit poorly. Purchasing plans also help to support the operation of the Academy of Model Aeronautics - the #1 advocate for model aviation throughout the world. If the AMA no longer has this plan on file, I will be glad to send you my higher resolution version.
Here is a photo that Mark Radcliff sent with his e-mail: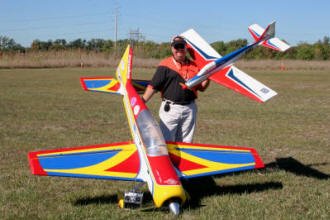 Posted February 9, 2011