My father's side of the family hearkened from the Buffalo, New York area (Lackawanna and West Seneca, to be more specific), but we lived in Mayo, Maryland, where my mother's family resided. Most summers my father's sister, Bonnie (my aunt) and her husband, Brian (my uncle) would load my grandparents and another uncle or two into their big cruiser and drive down for a week. It was always a great time. Every five years or so, my parents braved a trip with my siblings and me up to Buffalo. I loved it up there because of the cool weather.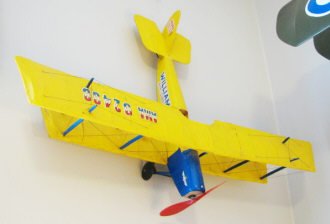 Sometime around 1972, we made the trek and while there, in-between going to Niagara Falls, Crystal Beach, and other nearby attractions, I built the Curtiss JN4-D Jenny biplane shown below. My Uncle Brian cleared a spot in his basement for me to work. I left it for him as a decoration. The years passed... and passed... and passed.
Melanie and I move to Erie, Pennsylvania in the spring of 2008. Erie is 100 miles from Buffalo. Oddly, it is closer to both Cleveland and Buffalo than it is to Pittsburgh, but I digress. We visited Bonnie and Brian last year when their daughter Beth (my cousin) got married, but we did not have an opportunity to go to their house. Well, yesterday, May 13, 2011, Melanie and I went over to spend the day and catch up on the last 30 years. When we arrived, Brian led me into their dining room and there sitting on the table was my old Curtiss Jenny! What a great surprise that was. With all the moving around we have done, and the fact that I destroyed most of what I touched as a kid, I had no other relic from the past except a high school yearbook. The Jenny now occupies an honored spot on my hobby room wall.
My Academy of Model Aeronautics (AMA) number, 92498, is still the same as it was back then. I never have been able to determine with certainty when I first joined the AMA, but clearly it was sometime before the Jenny was built.
In looking at the quality of construction and covering, it is no wonder my free flight planes of the day never flew well - if at all. Maybe I'll use the excuse that it was never really meant to fly, but man, is the covering job horrendous! It tips the scale at 2.2 ounces (62 g). It is a balsa, tissue, and dope brick!
Oh well, perhaps that is what gave it the staying power all these years. Thanks to my aunt and uncle, the Jenny is now hanging from a bedroom wall. It's good to see an old friend again.
I might just look for an old Comet Jenny kit on eBay and build another - this time one that will actually fly!
Posted August 26, 2021
(updated from original post on 5/14/2011)