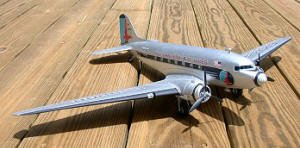 The DC-3 / C-47 has long been my all-time favorite WWII-era twin engine airplane (the B-25 runs a close second). I have a rubber-powered version of it under construction, but it will be non-flying. See my pictures at the bottom of this page. The C-47 Dakota (or Skytrain) version of it first flew on December 17, 1935. It went by many designations throughout its military history, including the C-47, AC-47, R4D, C-53, Dakota, C-117, L2D and the Li-2. A friend of mine at work brought in a real maintenance manual that his father gave him from when he did maintenance on the Pan American Airlines fleet. A lot of the pages have been scanned and posted at the above link, and should prove useful for modelers looking for scale detail.
Above is a plastic static display Douglas DC-3 finished in Eastern Airlines trim, built from a Monogram kit.
I'm in the process of building a control line model of the DC-3 / C-47 as well. I haven't decided whether to paint it in commercial airline (DC-3) colors or military (C-47) colors.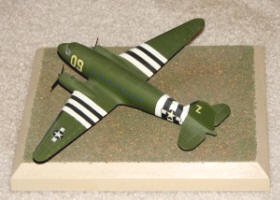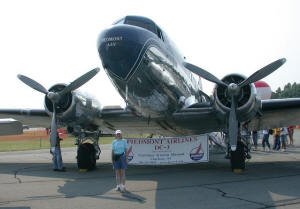 Melanie with DC-3 at 2005 Winston-Salem Airshow.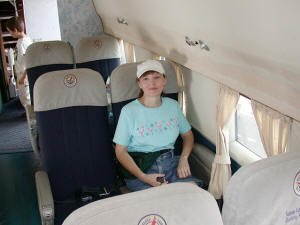 Melanie sitting in a DC-3 at the 2005 Winston-Salem airshow.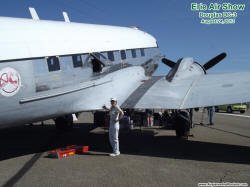 Melanie next to DC-3 at Erie Air Show in 2013.
Here is my Guillows DC-3 kit that is being built as a C-47 Dakota. It will be a non-flying model when completed.
Wingspan: 35"
Considered to be the single most important aircraft in the history of air transportation, the DC-3 first flew in 1935. Douglas Aircraft built it as a replacement for the smaller DC-2. Its 180 MPH cruising speed made it the fastest of its day, and carried 11 more passengers than the Boeing 247. By 1938, 80 percent of all American commercial airline traffic was carried on DC-3's. During World War 2, the military conversion of the DC-3, the C-47 was used by the thousands in every theatre of the war. After the war, many of the surplus C-47's were converted back to civilian service.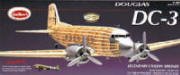 "The Douglas DC-3 is an American fixed-wing, propeller-driven aircraft whose speed and range revolutionized air transport in the 1930s and 1940s. Because of its lasting impact on the airline industry and World War II it is generally regarded as one of the most significant transport aircraft ever made. Many DC-3s are still used to this day in all parts of the world." - Wikipedia
The AMA Plans Service offers a full-size version of plans at a very reasonable cost. They will scale the plans any size for you.
http://www.modelaircraft.org/plans.aspx
Also, a detailed set of plans and construction article for a DC-3 / C-47 titled "Build Your Own Douglas C-47 World's Most Famous Plane," by Walter A. Musciano, appeared in the December 1947 edition of Air Trails.