Here is yet another of Walter M. Jefferies, Jr.'s inked masterpieces as it appeared in the July 1954 issue of Air Trails - Hobbies for Young Men magazine. This 4-view drawing of the experimental Douglas XF4D−1 Skyray reveals many details of airframe components, fuselage cross-sections, and panel lines.
Per Wikipedia: The Douglas F4D Skyray (later redesignated F-6 Skyray) is an American carrier-based fighter/interceptor built by the Douglas Aircraft Company. Although it was in service for a relatively short time (1956–1964) and never entered combat, it was the first carrier-launched aircraft to hold the world's absolute speed record, at 752.943 mph, and was the first United States Navy and United States Marine Corps fighter that could exceed Mach 1 in level flight. It was the last fighter produced by the Douglas Aircraft Company before it merged with McDonnell Aircraft and became McDonnell Douglas.
Douglas XF4D-1 Skyray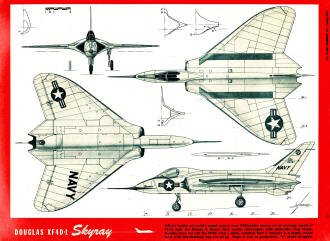 Official holder of world's speed record over 3-kilometer course at an average speed of 753.4 mph, the Skyray is Navy's first carrier interceptor with delta-like wing shape. Douglas does not call the XF-4D wing a delta, claiming that it actually is a highly swept form with interfuselage gap closed up. Plane is now in production. "X" prefix dropped.
Posted April 18, 2020