Airplanes and Rockets visitor Shun kwei L., from Taiwan, wrote to request the plans and article for The Drifter, a hand-launched glider that appeared in the September 1971 edition of American Aircraft Modeler. There was no accompanying article, but here are the scanned plans. The Drifter was designed by Phil Boretto, and plans were drawn by George Metz.
The Drifter
Designed by Phil Boretto
Drawn by George Metz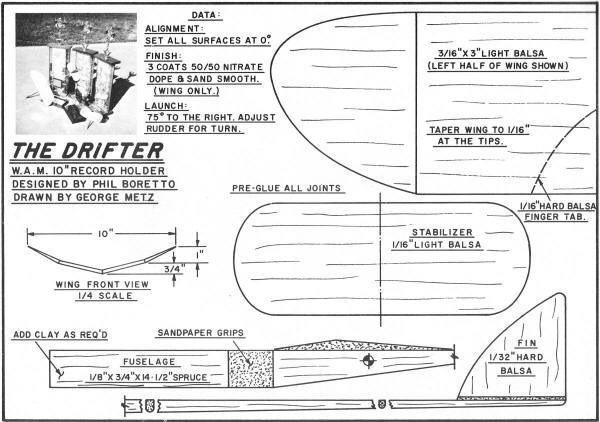 <click for larger version>
Notice:
The AMA Plans Service offers a full-size version of many of the plans show here at a very reasonable cost. They will scale the plans any size for you. It is always best to buy printed plans because my scanner versions often have distortions that can cause parts to fit poorly. Purchasing plans also help to support the operation of the Academy of Model Aeronautics - the #1 advocate for model aviation throughout the world. If the AMA no longer has this plan on file, I will be glad to send you my higher resolution version.
Posted December 18, 2010