If you have a vintage Cox .010 Pee Wee engine sitting on the display shelf and you've been itching to get it in the air again, Ken Willard's Flying Bandanna could be just the thing to get you there. Ken claims it only takes about 10 minutes to assemble, and as he says of the bandanna 'parachute,' it is "...a built-in wiping rag for your hands after each flight!" I remember as a kid when my .049-powered plastic Cox control line models had finally be demolished beyond repair (no glue at the time would hold the styrene plastic together for long), I would take what was left of the fuselage and launch it into free flight with the engine screaming. Sad to say, but especially during the early flying learning experience, I often got more flight from the model like that than while at the ends of the Dacron control lines :-(
Flying Bandanna - Thumbtack and a Dab of Glue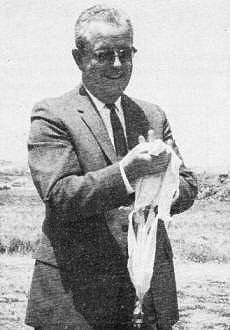 Relax! Unravel and unwind. Anyone with a pinked-edge bandanna is a sissy.
Ken Willard
Worried about warps? Depressed by dihedral? Concerned about clobbering umpteen hours work in one crunching crash?
Forget it for a few minutes. Make yourself a flying machine that trims itself out in the climb, flies as high as you want it to, and when the engine quits, has an automatic recovery system which blossoms into a parachute for a soft landing.
That's not all. Only takes ten minutes to make, and its a built-in wiping rag for your hands after each flight! Make a ''Flying Bandanna," amaze your friends.
Here's the bill of materials: 1) One 010 engine by Cox; 2) One handkerchief - or any light rag, 18" square; 3) Four strips of cloth, 14" long, 1 1/4" wide; 4) One disk of medium hard balsa, 3/8" thick, 1" in diameter; 5) Two 3/8" long wood screws; 6) One thumbtack; 7) A dab of glue.
Here's how to assemble it: 1) Tie the 14" strips to the corners of the cloth; 2) Tie the loose ends of the 14" strips together. This makes a sort of a parachute; 3) Attach the knotted ends to the balsa disk with a dab of glue and the thumbtack - center the knot as closely as possible, but don't worry, it's not critical; 4) Screw the 010 engine to the other side of the balsa disk.
Here's how to fly it: 1) Twist up the 14" strips clockwise, until the corners of the 18" cloth come together; 2) Fire up the 010, adjusting the needle valve so it peaks out with the engine pointing straight up - use the 3" prop furnished with the engine; 3) Hold the running engine in one hand, the cloth in the other, making sure that the strips and cloth are twisted; 4) Launch straight up.
On the way up, the engine torque, due to the anti-clockwise rotation of the propeller, will tend to keep the cloth strips twisted clockwise, and prevent the cloth from opening up. When the engine quits, it falls below the cloth, the strips unwind, and the cloth blossoms into a parachute.
Sounds crazy? It is - but I've had more fun with it than a lot of guys have with expensive R/C jobs. You will too.
Prepare for flight by twisting bandanna and cloth strips clockwise. Canopy stays shut as engine's torque keeps the twist in.
Posted March 18, 2017