William A. Wylam has created some amazingly detailed scale aircraft line drawings for Model Airplane News. These line drawings of the Ford Tri-Motor from the May 1954 edition of Model Airplane News is all you need to see to understand just how good he was. Mr. Wylam, per his biography, holds bachelor's degrees in biology and electrical and mechanical engineering. He worked at Bell Labs and for numerous military and government agencies, and owns more than 1,500 copyrights and 17 patents. The world is definitely a better place for William A. Wylan's existence. If you're interested, here is a video I made during a flight that Melanie and I took in a Ford Tri-Motor in the summer of 2013.
Ford Tri-Motor Detailed Drawings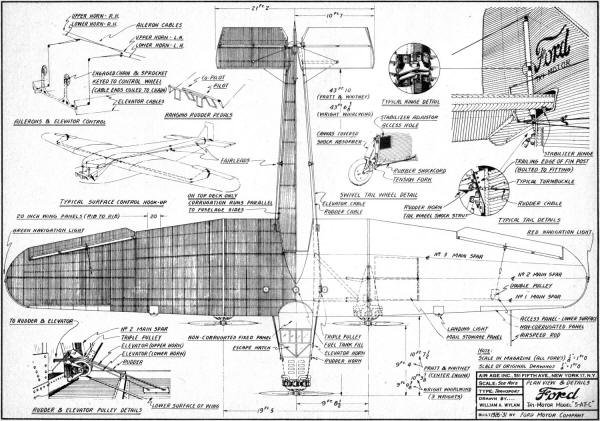 Ford Tri-motor Drawing (sheet 1)
<click for larger version>
Ford Tri-motor Drawing (sheet 2)
<click for larger version>
Notice:
The AMA Plans Service offers a full-size version of many of the plans show here at a very reasonable cost. They will scale the plans any size for you. It is always best to buy printed plans because my scanner versions often have distortions that can cause parts to fit poorly. Purchasing plans also help to support the operation of the Academy of Model Aeronautics - the #1 advocate for model aviation throughout the world. If the AMA no longer has this plan on file, I will be glad to send you my higher resolution version.
Posted November 18, 2013