Microduster Article & Plans
Thanks to Midwest Kim S. for sending me this article for the Microduster (by P.A. Collins) that he scanned form the September 1993 edition of Model Builder. It is a free flight model powered by a Cox .010 engine. This is presented to foster interest in free flight. I did a search to try to locate an "official" source for purchasing the plans, but could not find any.

Says Kim, "Your free flight project comment reminded me of another of my "someday" projects. I've kept this particular magazine safe for a long time, so that when the inspiration strikes, I'll be able to find it and crank out this cute, shrunken Starduster. I guarantee you that it will be radio-assisted! I figure that the pylon could be widened enough to hide a small radio to steer the rudder, and maybe even a trip device to de-thermal it at full deflection. It might be an insult to the purists that are still around, but there's no way that I'd turn my only little .010 loose in the thermals!"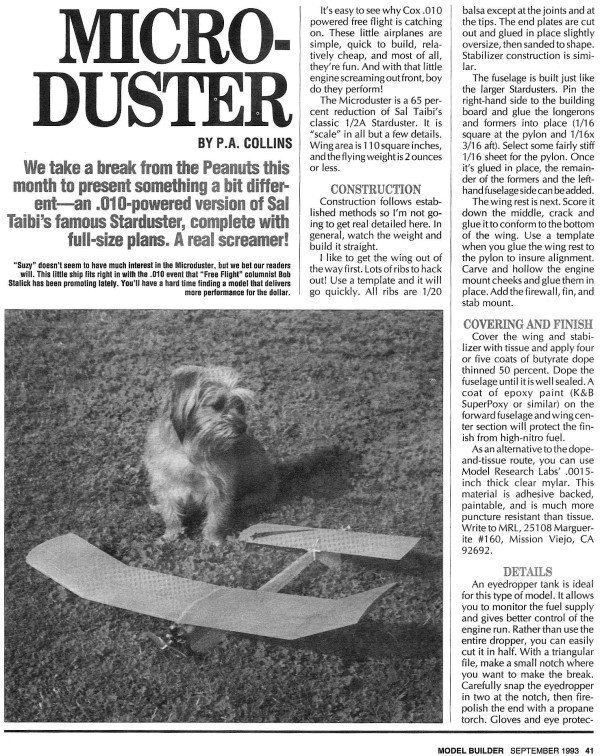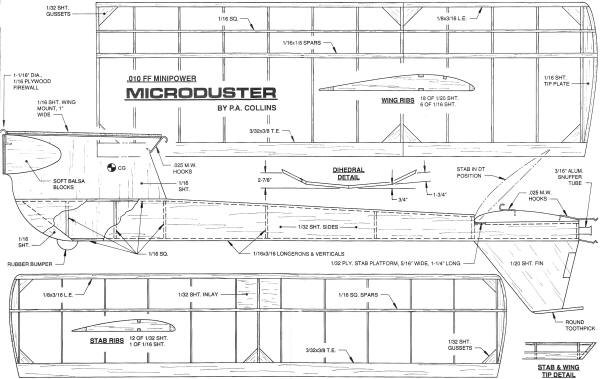 Kirt Blattenberger
Carpe Diem!
(Seize the Day!)

Even during the busiest times of my life I have endeavored to maintain some form of model building activity. This site has been created to help me chronicle my journey through a lifelong involvement in model aviation, which all began in Mayo, MD ...

Webmaster:
Kirt Blattenberger
BSEE - KB3UON
Family Websites:
RF Cafe | Equine Kingdom

All trademarks, copyrights, patents, and other rights of ownership to images and text used on the Airplanes and Rockets website are hereby acknowledged.


Academy of Model
Aeronautics

Tower Hobbies