Plans with minimum instructions for the Miss Max free flight model were published the July 1961 issue of American Modeler magazine. Bryant A. Thompson (AMA 2697 - USAF Team Member), of Wichita Fall, Texas, placed third in the Open Clipper event at the 1960 Dallas Nationals using his Miss Max cargo design. It lifted 40−½ ounces. The "300" ½A Free Flight and Clipper Cargo versions are both shown in the plans. Scaling factors for "300" (Class ½A), "450" (Class A), and "900" (Class B) model sizes are provided. A Cox Pee Wee .020 is drawn on the plans for the Cargo Clipper version. In the top view, note that the wing is shown "flattened" (without polyhedral). "Flat span" dimensions are what appear in the table.
Miss Max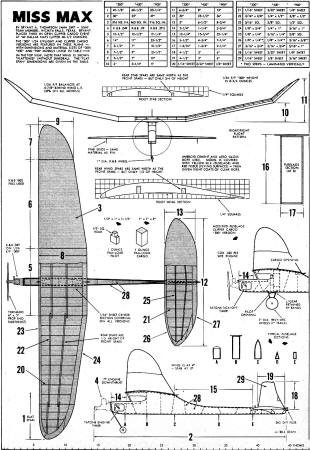 Notice:
The AMA Plans Service offers a full-size version of many of the plans show here at a very reasonable cost. They will scale the plans any size for you. It is always best to buy printed plans because my scanner versions often have distortions that can cause parts to fit poorly. Purchasing plans also help to support the operation of the Academy of Model Aeronautics - the #1 advocate for model aviation throughout the world. If the AMA no longer has this plan on file, I will be glad to send you my higher resolution version.
Try my Scale Calculator for Model Airplane Plans.
Posted July 10, 2021