While not specifically drawn as plans for building a model of the Pietenpol Air Camper, all the detail and dimensions necessary for scaling to any size is possible using these sketches which appeared in the March 1961 issue of American Modeler magazine. The "Piet" has been as popular a subject for modeling as is was and still is for building full-size aircraft. Originally designed in 1930 by Bernard Pietenpol, the craft borrowed many of its metal parts from Ford automobiles, including the engine and suspension spring for a tail skid. Aircraft Spruce & Specialty Company still sells Sitka spruce wood kits for the full-size Pietenpol Air Camper; the total as of this writing is less than $4,000. You can be sure the information contained in this article is trustworthy because it was authored by Mr. Pietenpol himself!
See also the Pietenpol Air Camper from the August 1969 issue of American Modeler.
Pietenpol Air Camper
By B. H. Pietenpol
Designed by B. H. Pietenpol in Spring Valley, Minnesota, and first presented in a 1930 issue of Modern Mechanix magazine, the Pietenpol "Air Camper" was one of the first successful, widely accepted American "home-built." The prototype featured safety and ease of flying as well as practical and inexpensive construction. Its powerplant was a converted Ford Model A water-cooled automobile engine, easy to obtain in those days and developing 38 to 40 horsepower.
Construction of the "Air Camper" was all-wood with some sheet aluminum used in cowling and top of fuselage and over the leading edge of the wing. The fuselage was built up with 1" x 1" Sitka spruce and plywood; the one-piece wing used both wood spars and ribs, wire braced. The airfoil, developed by Pietenpol for maximum performance and stability, bears a close resemblance to the Eiffel 36 section employed so successfully in the Curtiss JN4 "Jenny" wing.
With its Ford engine, your "Air Camper" cruised anywhere from 60 to 70 M.P.H.; stalled from 35 to 40. Various fuel tanks employed held from 10 to 12 gallons of gas, giving the "Air Camper" a range of about 200 miles. Rate of climb was 200 to 500 feet per minute.
Many "Air Campers" were home-built; production jobs were turned out at the Pietenpol factory. While not a real hot performer compared to some of the present home-builts, a factory finished "Air Camper" could be had for around $750 in those days. (Factory production ceased in 1939.) A few Ford-powered Pietenpols are still flying today.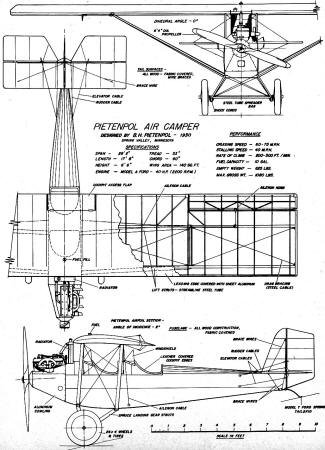 Notice:
The AMA Plans Service offers a full-size version of many of the plans show here at a very reasonable cost. They will scale the plans any size for you. It is always best to buy printed plans because my scanner versions often have distortions that can cause parts to fit poorly. Purchasing plans also help to support the operation of the Academy of Model Aeronautics - the #1 advocate for model aviation throughout the world. If the AMA no longer has this plan on file, I will be glad to send you my higher resolution version.
Posted July 24, 2021