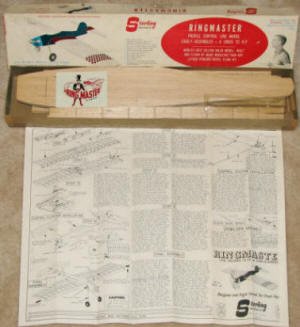 The Sterling Ringmaster is truly a classic control line model that allowed many people to learn to fly the AMA stunt pattern.

A while back, I bought a Sterling Ringmaster kit off of eBay with plans to build and fly it. Since that time, I have sold the kit.

Wingspan: 42"

Length: 27¾"

Engine: .19 to .35

If you go to the Brodak website, you will see that the new profile stunt kits are priced at around $60 - $70. This classic typically sells on eBay for between $75 and $125, with no good reason why the price varies so widely.

A couple companies have begun selling laser-cut kits- or at least short kits - of the Ringmaster. I'm not sure which version they are making. Here are a couple sources for a Ringmaster kit.

This list of the different Ringmaster models was obtained from "The Ringmaster Page."
S-1 Ringmaster (1950)
S-1A New Ringmaster
S5 Ringmaster Jr. (1955)
S6 Super Ringmaster
S13 Baby Ringmaster
S18 Ringmaster Imperial
S22 Ringmaster Sportster
S26 Custom Ringmaster
S29 Ringmaster Jr. Flash
S30 Beginners Ringmaster
S32 Beginners Ringmaster Bipe