This full-page advertisement for Comet's Sabre 44 control line "gas" model appeared in the January 1955 issue of Model Airplane News. Ready-to-fly "gas" models were just entering the market at the time. The "All Plastic" model preceded Cox's popular line of ready-to-fly plastic control line models. Whereas the Cox models used their own line of .049 and .020 glow fuel engines, Comet used the 1/2A-Herkimer 049B engine. The $9.95 price tag in 1995 is the equivalent of $101.25 today, which is really about what such a model with engine would cost now if anyone made such a product (which they don't).
Comet Sabre 44 Control Line Gas Model Ad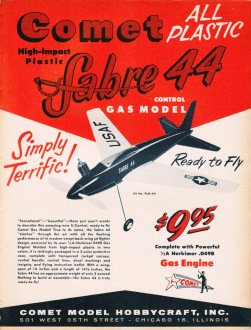 All Plastic
High-Impact Plastic
Simply Terrific!
Ready to Fly
Kit No. PLM-44
"Sensational" - "beautiful" - there just aren't words to describe this amazing new U-Control, ready-to-fly Comet Gas Model! True to its name, the Sabre 44 "slashes" through" the air with all the flashing performance of its modern swept-back-wing jet fighter design, powered by its own 1/2A-Herkimer 049B Gas Engine! Molded from high-impact plastic in two colors, it is strikingly packaged in a 3-color protective case, complete with transparent cockpit canopy; control handle, control lines, decal markings and insignia, and flying instruction leaflet. With a wing-span of 14 inches and a length of 14 3/8 inches, the Sabre 44 has an approximate weight of only 5 ounces! Nothing to build or assemble - the Sabre 44 is truly ready-to-fly!
Complete with Powerful 1/2A Herkimer .049B
Gas Engine
Comet
Comet Model Hobbycraft, Inc.
501 West 35th Street - Chicago 16, Illinois
Posted July 28, 2021