Northrop Corporation, today known as Northrop-Grumman, designed and manufactured the f-5A Freedom Fighter, which was more famous in its USAF supersonic trainer role as the T-38 Talon. The prototype aircraft was designated the N-156-F (or N-156F). This highly detailed drawing and photos of the N-156F appeared in the January 1962 edition of the AMA's American Modeler magazine. The drawing is signed "tagey."
Close-ups of Northrop's Norair Division "Freedom Fighter" show starboard air intake and main gear. No. 94988, second one built, seen at bottom with USAF T-38 Talon trainer.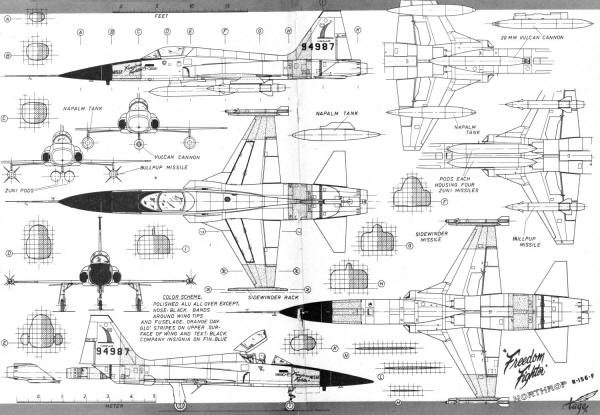 <click for larger version>
Notice:
The AMA Plans Service offers a full-size version of many of the plans show here at a very reasonable cost. They will scale the plans any size for you. It is always best to buy printed plans because my scanner versions often have distortions that can cause parts to fit poorly. Purchasing plans also help to support the operation of the Academy of Model Aeronautics - the #1 advocate for model aviation throughout the world. If the AMA no longer has this plan on file, I will be glad to send you my higher resolution version.
Posted March 9, 2013