A friend of mine, Tom Eastlake, recently sent me some photos documenting his building of a Guillow's Supermarine Spitfire. This is the smaller version that has a 16½" wingspan (there's a larger one with a 24" wingspan). Tom started building his Spitfire in the early to middle part of December 2010.

You can see his Comet Cadet here.
November 2011 Update:
Tom just sent me these way-cool new action photos of his Spitfire. Photos by Mike Hughes
Spitfire on night alert Spitfire on landing approach Spitfire on patrol
December 29 ,2010 Update:
Tom sent these high quality photos of his Guillow's Supermarine Spitfire. It looks really good against the light wooden table! As you can see from the photos below, he made pretty quick work of the building, covering, and painting process. A sheet of glass was laid over the plans and then masking tape held parts in place while building. A glue stick was used to attach the Jap tissue, and then Krylon spray provided the coloring. The wing roundels are painted on. This Spitfire will be for display only.
Nice job, Tom!
Tom Eastlake's Supermarine Spitfire (Guillow's kit) - port side 3/4 view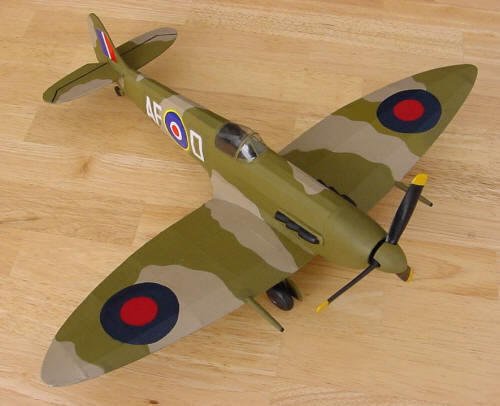 Tom Eastlake's Supermarine Spitfire (Guillow's kit) - starboard side 3/4 view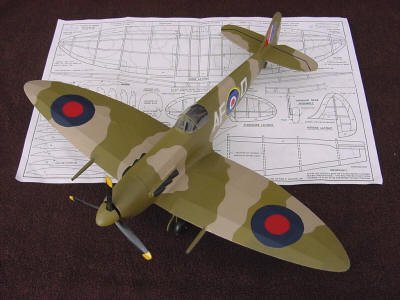 Tom Eastlake's Supermarine Spitfire (Guillow's kit) - sitting on the plans
Tom's build-on-glass method
(that's his Spitfire under construction)
December 12, 2011
Tom Eastlake's Spitfire with tissued fuselage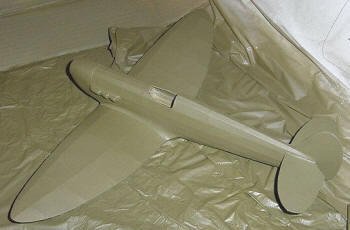 Olive drab base coat
Camouflage being added